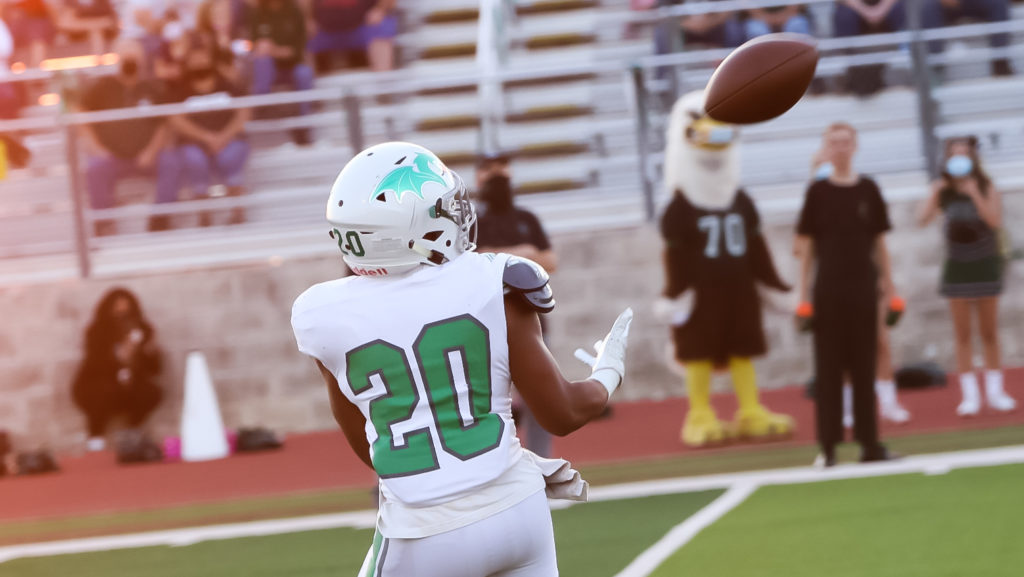 SONORA – The Bangs Dragons put forth their most impressive performance of the season as they remained undefeated and set up a showdown next week with the Ballinger Bearcats for the District 2-3A Division II championship thanks to Friday night's 48-14 rout of the Sonora Broncos.
A week ago, the Dragons trailed Ingram Moore, 15-7, at the end of the first quarter. This week, however, Bangs (7-0, 3-0) scored the first 41 points against Sonora (3-5, 2-1), which entered the contest on a three-game win streak.
"I thought from the first play on our kids were ready to go, and we executed well on both sides of the ball," said Dragons third-year head coach Kyle Maxfield. "The first thing that jumps out is how many third downs we converted, whether it was third and medium or third and long, we converted. That was very promising."
The Dragons produced 501 yards of total offense – 258 rushing and 243 passing – with no turnovers.
Ethan Cortez completed 12 of 15 passes for 243 yards and three touchdowns and rushed for 97 yards and two more scores, while Ethan Sanchez picked up 141 yards on the ground and scored twice while catching a 68-yard touchdown pass. Guy Powell logged five catches for 88 yards with a trip to the end zone, Damien Santillanes added five grabs for 30 yards, Brayton Wedeman finished with two receptions for 46 yards and scored once, and Trevor Bowers hauled in an 11-yard catch.
Bangs' defense limited Sonora to 169 yards – 144 rushing and 25 passing – and created two takeaways.
Sanchez led the defense with 12.5 tackles and one interceptions followed by Damien Santillanes with seven tackles, one sack and one interception. Charlie Smith also chipped in seven tackles including one for loss, and Wyatt Lykins added four tackles and recovered a fumble.
"We won the toss, decided to defer, and the defense set the tone that first series and we just rolled with it," Maxfield said. "We were very physical and in attack mode and tackled well. Overall it was a great team effort."
The Dragons took a 7-0 lead with 3:35 left in the first quarter on a 10-yard Cortez run, coupled with Braxton Melling's extra point.
By halftime, Bangs had stretched the advantage to 27-0 as Ethan Sanchez scored on runs of 5 and 7 yards, and Cortez connected with Guy Powell for a 9-yard scoring toss.
The Dragons tacked on two more touchdowns in the third period as Cortez flung a 68-yard touchdown to Sanchez and completed a 21-yard touchdown pass to Brayton Wedeman.
Sonora lit up the scoreboard for the first time with 10:25 left in the game on a 31-yard touchdown by Preston Gonzalez, then Cortez added Bangs' final touchdown on a 36-yard sprint.
The Broncos scored once more with 36 seconds left as Nate Gensler found the end zone on a 16-yard carry.
Bangs will visit Ballinger (8-1, 3-0) – a 47-6 winner over Ingram Tom Moore in Week 9 – at 7 p.m. Friday.
"It'll be a big challenge for us, especially going to their place," Maxfield said. "Traveling to Sonora was good for us because we'll have to do the same thing next week. It's not as far of a trip but we're going into their home and we know we're going to get their best. Hopefully we give them our best and let the best team win."