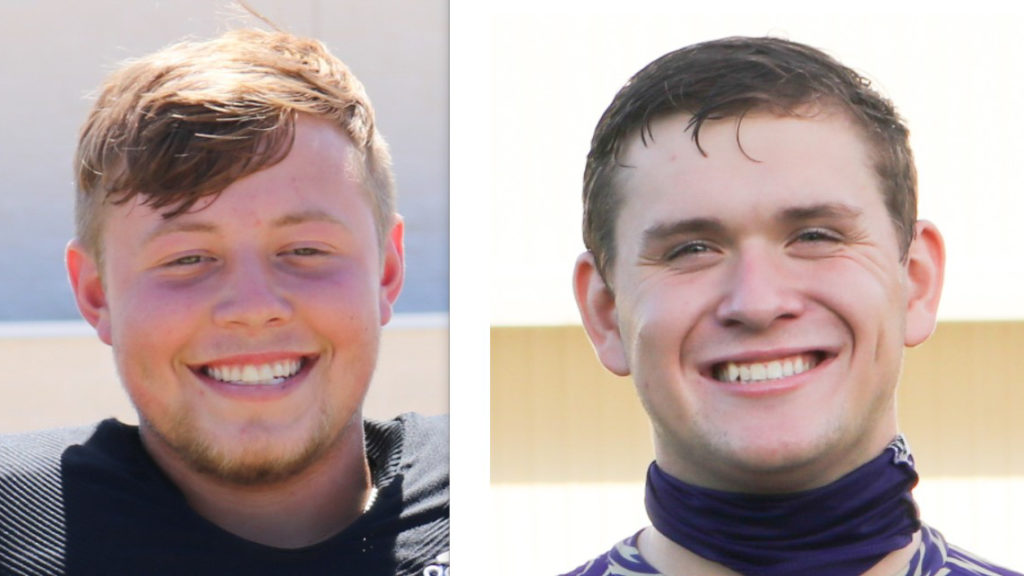 RICHLAND SPRINGS – The Class A Division II No. 2 Richland Springs Coyotes faced one of their toughest district battles in the past two decades, but were able to fend off the Cherokee Indians, 84-81, Friday night for a 75th consecutive league win.
The victory also clinched a 19th straight district championship for the Coyotes (6-0, 2-0), who are also targeting a 10th state championship, but nothing in the victory over Cherokee (5-3, 1-1) came easy.
Down 24-14 in the first quarter, the Coyotes eventually pulled even at 30 on a 6-yard touchdown run by Jadeyn Bryant, who finished with 115 yards and three touchdowns on the ground to go along with a 21-yard touchdown catch.
Landon Burkhart's 26-yard touchdown pass to Chase Gossett, along with Gossett's two-point kick – gave Richland Springs its first lead, 38-36, with 4:26 left in the first half.
Knotted at 44, the Coyotes regained the lead, 52-44, as Burkhart – who rushed for 207 yards and four touchdowns and passed for 194 yards and three more scores – scampered into the end zone from 26 yards out.
Cherokee cut the deficit to 52-51 at halftime, but the Coyotes opened the second half with the first points on a 21-yard scoring toss from Burkhart to Bryant, which gave Richland Springs a two-score edge following Gossett's two-point kick, 60-51.
The two teams traded touchdowsn the rest of the way – seven over the final 15:33 – as Richland Springs was able to keep Cherokee at arm's length.
Richland Springs finished with 530 yards of total offense to 529 for Cherokee. The Coyotes rushed for 336 yards and seven touchdowns while the Indians passed for 347 yards and six scores. Richland Springs lost two fumbles, the only two turnovers in the contest.
Next week, Richland Springs ventures to Mullin (6-1, 0-1), which had its district bye Friday night.
Brookesmith 1, Panther Creek 0 (forfeit)
Due to a lack of healthy players for Panther Creek, the Brookesmith Mustangs opened District 15-A Division II competition with a forfeit victory Friday night.
Next week, Brookesmith (4-2, 1-0) is slated to visit Rising Star (3-5, 0-2), which dropped a 37-30 decision to Sidney in district action Friday.
San Saba 49, Winters 0
WINTERS – The Class 2A Division I No. 3 San Saba Armadillos rolled to another convincing District 4 victory Friday night, blanking the Winters Blizzards, 49-0.
San Saba (5-1, 2-0) generated 503 yards of total offense behind a balanced attack that featured 292 yards on the ground and 213 through the air.
Risien Shahan accounted for 201 passing yards and two touchdowns, while rushing for 16 yards and a score. Stone Sears led the ground game with 99 yards and two trips to the end zone, Justin Yarbrough rushed for 90 yards and scored once, and Wesley Lackey chipped in a 53 yards and a touchdown. Yarbrough also caught a team-high three passes for 61 yards, Sears added two catches for 68 yards, Lackey caught a 35-yard touchdown and Franco Franco pulled down a 15-yard scoring toss.
Defensively, San Saba forced five turnovers – fumbles recovered by Shahan, Franco, Ty Robertson and Dylan Ware, and an interception by Logan Glover. Ware led the way with nine tackles including three for loss and a sack, while Landon Yarbrough chipped in eight tackles with two behind the line of scrimmage.
Next week, San Saba hosts De Leon (1-6, 0-2), which is coming off a 48-6 loss to Cisco.
Coleman 28, Goldthwaite 7
COLEMAN – The Coleman Bluecats ran their win streak to five games and remained atop the District 4-2A Division I standings with a 28-7 triumph over the Goldthwaite Eagles Friday night.
Tied at 7 after one quarter, Coleman (6-1, 2-0) grabbed a 14-7 lead over Goldthwaite (2-5, 0-2) before halftime, and tacked on two insurance touchdowns in the fourth period.
Coleman's Corbin Rosales threw a 71-yard touchdown pass to Braxton Smith to open the scoring, but Goldthwaite's Aaron Anzua answered with an 81-yard kick return to the end zone.
The Bluecats took the lead for good on another Rosales to Smith pass, which covered 7 yards.
In the second half, Rosales connected with Zeke Valdez on a 2-yard touchdown toss and David Navarro scored on a 5-yard carry to cap the scoring.
Coleman generated 331 total yards – 211 rushing and 120 passing. Rosales passed for 120 yards and three scores and led the ground attack with 109 yards rushing. Smith caught a team-high four passes for 96 yards, while R.J. Wright added 46 yards on the ground and Denver Hunter rushed for 28.
Goldthwaite finished with 141 yards as team, including 130 on the ground. Quarterback Jackson Patrick rushed for 64 yards, Seth Gardner added 35 and Anzua chipped in 26. Patrick completed 1 of 8 passes for 11 yards to Bryson Owen, and two passes were intercepted.
Next week, Coleman ventures to Cisco (4-3, 2-0), which knocked off De Leon, 48-6, Friday, while Goldthwaite hosts Winters (1-6, 0-2), fresh off a 49-0 defeat at the hands of San Saba.
Eastland 31, Comanche 17
COMANCHE – The No. 9 Eastland Mavericks handed the No. 17 Comanche Indians their first loss of the season Friday night, chalking up a 31-17 victory in District 5-3A Division II action.
Entering the game, Comanche (6-1, 1-1) had allowed just 33 points all season while Eastland (4-3, 2-0) – which extended its win streak to four games – had averaged 73 points per contest over the last three.
Comanche led 7-0 after one quarter but Eastland put 17 points on the board in the second period to take a 10-point halftime lead. The Mavericks then extended the advantage to 24-7 heading into the fourth quarter.
The Indians manufactured 294 yards of total offense – 222 on the ground and 72 through the air.
Luke Wilson rushed for 100 yards and a touchdown while Oscar Rios chipped in 45 yards with a trip to the end zone.
Hudson Welch connected on 9 of 18 passes for 72 yards as Taelon Sorrells grabbed three catches for 25 yards, Trent Odom added two for 23 and Bryce Hermesmeyer pulled down two receptions for 14 yards.
Defensively, Cash Cook again led the way with 10 tackles followed by nine from Wilson. Comanche did not record a sack or force a turnover.
Eastland statistics were not available.
Next week, Comanche will attempt to rebound at Millsap (5-2, 1-1), which upended Merkel, 45-27, Friday night.
Lometa 53, Zephyr 7
ZEPHYR – The Zephyr Bulldogs dropped their District 15-A Division I opener and slipped to 1-6 on the season with a 53-7 loss to the Lometa Hornets.
Further information from the game was unavailable.
Next week, Zephyr plays hosts to Jonesboro (7-1, 1-0), which defeated Evant, 78-31, Friday night.
Cross Plains at Meridian (postponed, COVID)
The Cross Plains-Meridian District 8-2A Division II encounter will likely be made up Nov. 6. The Buffaloes host Ranger (0-7, 0-3) – coming off a 61-0 loss to Albany – in Week 9 action.