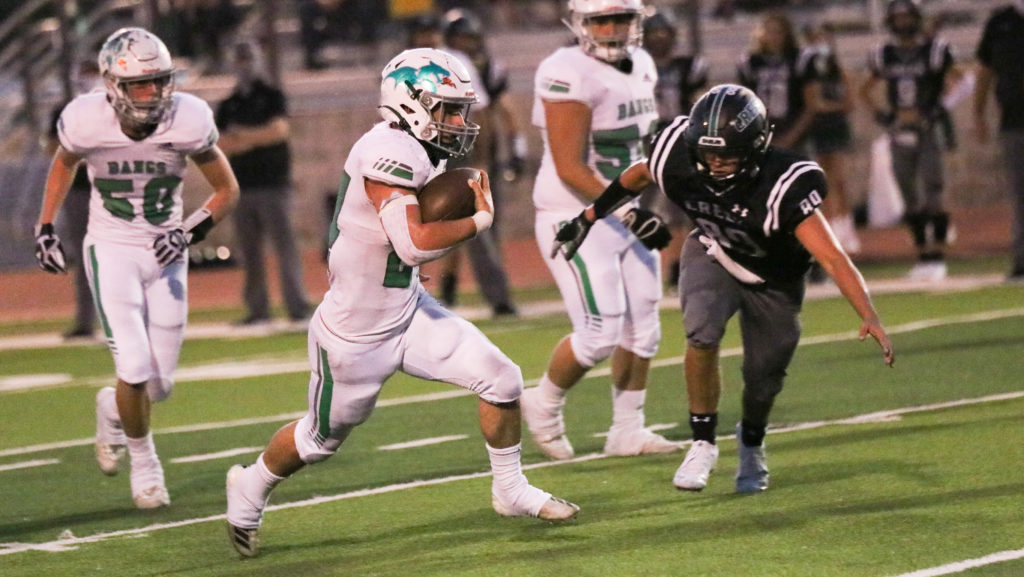 The District 2-3A Division II opener for the undefeated Bangs Dragons proved to be their most lopsided win yet. Now, third-year head coach Kyle Maxfield's squad turns its attention to the Ingram Moore Warriors in a bid for a 6-0 start to the season and 2-0 start to league play.
The homecoming game for Bangs (5-0, 1-0) against Ingram Moore (5-1, 0-1) is slated to kick off at 7 p.m. Friday at Memorial Stadium.
Ranked No. 21 by Harris Ratings Weekly this week in Class 3A Division II, the Dragons are coming off a 62-0 thrashing at Grape Creek last week, while Ingram Moore's five-game win streak was halted by Sonora, 28-13.
Looking back on Bangs' latest triumph, Maxfield was most pleased with, "just the way we executed. It doesn't matter what it says on the scoreboard, we like to feel like we're playing just as hard no matter what the situation is in a game, and I think that was evident in the second half, we stayed focus and got better."
Prior to last week's loss, Ingram Moore had knocked off Junction (36-12), Johnson City (34-12), Harper (27-14), Center Point (50-14) and Manor New Tech (19-0). Those teams have combined for an 8-19 record.
"Everybody can argue strength of schedule with anybody that's 5-1, but they're pretty sound on both sides of the ball," Maxfield said. "Defensively, they have sound schemes and they haven't given up a whole lot of points this year. They've got three skill kids that play as good as any kids we've seen this year that play on offense and defense."
The Warriors average 30 points and 315 yards – 200 rushing and 115 passing – per game, while allowing 13 points per contest – and had not yielded more more than 14 points in a game until last week.
Quarterback Timothy Leatherman has throw for 508 passing yards with eight touchdowns, while rushing for 710 yards and eight scores. Kam Carrington has added 211 yards through the air with two scoring tosses, 234 rushing yards and another touchdown and 11 catches for 224 yards with three trips to the end zone. Andrew Burroughs has rushed for 162 yards and caught a team-high 15 passes for 221 yards with four touchdowns.
The top three tacklers for the Warriors are Burroughs (53 tackles, 2 for loss), Carrington (46 tackles, 2 for loss), and Leatherman (43 tackles).
Bangs heads into the contest averaging 45 points and 470 yards – 300 rushing and 170 passing – per game. Against Grape Creek, the Dragons generated 565 total yards – 337 on the ground and 228 through the air.
Quarterback Ethan Cortez has completed 36 of 52 passes for 850 yards with 10 touchdowns and one interception, while rushing for 427 yards and five scores. Ethan Sanchez leads the Dragons ground game with 889 yards and 14 touchdowns, while receiving threats include Brayton Wedeman (14-303, 3 TDs), Trevor Bowers (6-217, 3 TDs), Damien Santillanes (6-41, TD), Sanchez (3-134, 2 TDs), Guy Powell (3-111, TD), and Logan Massey (3-44).

Defensively, the Dragons give up 7 points and 207 yards – 114 rushing and 93 passing – per outing. Last week against Grape Creek, Bangs surrendered just 40 yards and three first downs.
Standouts include Sanchez (51 tackles, 1 for loss, 1 INT, 2 FRs), Damian Santillanes (40.5 tackles, 2 for loss, 1 sack, 1 FR), Charlie Smith (30.5 tackles, 3 for loss), Wedeman (27 tackles, 2 INTs), Logan Bishop (21.5 tackles, 1 for loss), Wyatt Lykins (18.5 tackles, 1 for loss, 2 FRs), Bowers (15.5 tackles, 2 for loss), Evan Belez (15 tackles, 1 for loss, 2 INTs), and Trey Ivey (14.5 tackles).
Healthwise, "we're about like we've been all year," Maxfield said. "We're not 100 percent but we're not in bad shape either. All things considered we're pretty healthy for this time of year."
Keys to victory for Bangs, according to Maxfield, are "not give up big plays, and as always take care of the ball on offense. They're pretty good at moving the ball at times so if we can get some three and outs and get them frustrated on offense that would be big. For us, we need to do what we do on offense, take what they're giving us and execute."
According to Harris Ratings Weekly, Bangs is a 32-point favorite.
Bangs Dragons 2020 Football Stats
Through 5 Games (5-0, 1-0)
TEAM OFFENSE
45.2 points per game (164)
470.4 yards per game (2,352)
300.4 rushing yards per game (1,502)
170.0 passing yards per game (850)
PASSING
‒ Ethan Cortez
36 of 52 for 850 yards, 10 TDs. 1 INT
RUSHING
‒ Ethan Sanchez
889 yards on 71 carries, 14 TDs
‒ Ethan Cortez
427 yards on 45 carries, 5 TDs
‒ Damien Santillanes
172 yards on 15 carries, 1 TD
‒ Guy Powell
88 yards on 17 carries
‒ Harley Keely
31 yards on 7 carries
‒ Jesse Sterling
10 yards on 3 carries
‒ Trevor Lorah
1 yard on 1 carry
‒ Tait Bowers
5 yards on 1 carry
‒ Brayton Wedeman
–8 yards on 4 carries
‒ Team
–15 yards on 1 carry
RECEIVING
‒ Brayton Wedeman
14 catches for 303 yards, 3 TDs
‒ Trevor Bowers
6 catches for 217 yards, 3 TDs
‒ Damien Santillanes
6 catches for 41 yards, TD
‒ Ethan Sanchez
3 catches for 134 yards, 2 TDs
‒ Guy Powell
3 catches for 111 yards, TD
‒ Logan Massey
3 catches for 44 yards
TEAM DEFENSE
6.8 points per game (34)
207.4 yards per game (1,037)
114.0 rushing yards per game (570)
93.4 passing yards per game (467)
TACKLES
‒ Ethan Sanchez
51 tackles, 1 for loss, 1 INT, 2 FRs
‒ Damian Santillanes
40.5 tackles, 2 for loss, 1 sack, 1 FR
‒ Charlie Smith
30.5 tackles, 3 for loss
‒ Brayton Wedeman
27 tackles, 2 INTs
‒ Logan Bishop
21.5 tackles, 1 for loss
‒ Wyatt Lykins
18.5 tackles, 1 for loss, 2 FRs
‒ Trevor Bowers
15.5 tackles, 2 for loss
‒ Evan Belez
15 tackles, 1 for loss, 2 INTs
‒ Trey Ivey
14.5 tackles
‒ Ethan Cortez
10 tackles
‒ Donovan Ruiz
9.5 tackles, 1 for loss
‒ Braden Montgomery
9 tackles, 1 for loss
‒ Logan Massey
7.5 tackles
‒ Trevor Lorah
6 tackles, 1 for loss
‒ Jesse Sterling
6 tackles
‒ Guy Powell
5 tackles, 1 INT
‒ Harley Keely
4 tackles
‒ Tait Bowers
3.5 tackles
‒ Hunter Bernal
3 tackles
‒ Harley Keely
2 tackles
‒ Jackson Light
2 tackles
‒ Jesse Sterling
2 tackles
‒ Luke Duncan
2 tackles
‒ Austin Tilley
2 tackles
‒ Jackson Light
2 tackles
‒ Dakota Baker
1.5 tackles
‒ Braxton Melling
.5 tackle, 1 FR