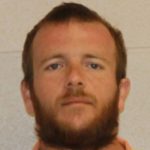 Patrick Boutelle – who local law enforcement have been searching for since Sept. 27 – was taken into custody by the Brownwood Police Department Wednesday. Boutelle was apprehended and charged with resisting arrest, evading arrest and bond violation for the following warrants: aggravated assault / family violence, burglary of a habitation and violating a protective order.
Bond for Boutelle is set at $120,000.
According to an email from the Brownwood Police Department:
On Wednesday, Oct. 7 at approximately 7 p.m. officers were dispatched to 401 W Commerce, Walmart, regarding a report of a wanted subject. A citizen phoned the phone department stating that Patrick Boutelle was observed inside the store. Officer Colby Adams and Corporal Brandon Johnson arrived at the store and began looking for Mr. Boutelle. Officer Adams located a male subject who matched Mr. Boutelle's description and approached him in the automotive section of the store.  The male subject immediately turned and attempted to run away from Officer Adams. Officer Adams was able to pull the male to the ground and attempted to place him in handcuffs.  The male continued to fight and resist and was able to get back on his feet and ran to the exit doors of the automotive section.  Officer Adams deployed his Taser at this time and was able to detain the male in handcuffs with the assistance of Cpl. Johnson. The male was positively identified as 33-year-old Patrick Gerard Boutelle of San Marcos. Mr. Boutelle was arrested and charged with Resisting Arrest, Evading Detention and for the following warrants: Aggravated Assault / Family Violence, Burglary of a Habitation and Violating a Protective Order.
The Early Police Department issued the following information regarding Boutelle on Sept. 28:
The evening of Sunday, Sept. 27 Early police officers along with Brown County Sheriff's Deputies and DPS responded to the area of 200 block of Crescent Drive where Patrick Boutelle had been spotted by his bondsman at a house, he had a protective order prohibiting him from being at. Boutelle had bonded out of the Lampasas County Jail for numerous charges in Lampasas and charges from Early PD of Aggravated Assault that took place on crescent drive where Boutelle broke into a house where his wife was staying, assaulted her and held a gun to her. Since bonding out in Lampasas, Boutelle had returned to the house and assaulted his estranged wife again and violating an emergency protective order, Warrants have been issued for these violations. When Boutelle returned Sunday evening, the bail bondsman attempted to make contact with Boutelle before notifying law enforcement at which time Boutelle ran from the bondman. The bondsman then notified Law Enforcement when Boutelle wrecked his vehicle on Longhorn just off Park drive. Boutelle ran on foot before officers arrived. Officers located a handgun, a quantity of marijuana, several variations of marijuana including THC Wax, other substances believed to be methamphetamine and mushrooms. The vehicle and all the items were seized. More charges will be sought for violating a protective order again and multiple drug and weapon charges. On Monday, Sept. 28 dispatch received several reports of sightings around Brownwood near west Commerce and Lakeway area but Boutelle has not been arrested at this time.