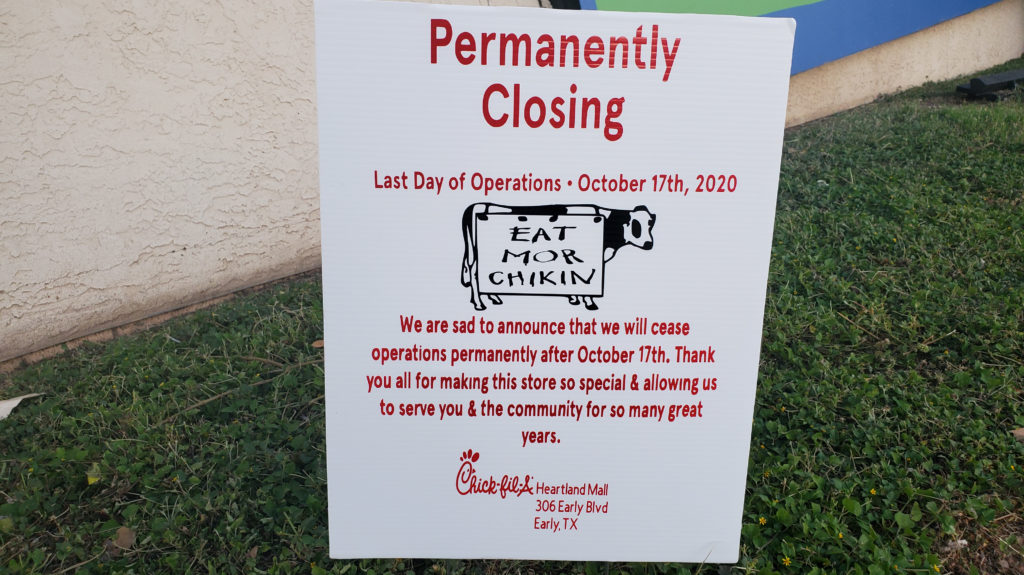 Speculation has run rampant for months that once the Chick-fil-A location at 500 East Commerce in Brownwood opened the one at the Heartland Mall in Early would be no more. That was all but officially confirmed Thursday night, as signs near the drive-through at the Heartland Mall location announced the restaurant's permanent closure as of Saturday, Oct. 17.
The sign reads "Permanent Closing. Last Day of Operations, October 17th, 2020. We are sad to announce that we will cease operations permanently October 17th. Thank you all for making this store so special and allowing us to serve you and the community for so many great years."
Attempts to reach out to the Chick-fil-A in regard to learning an official opening date for the Brownwood location have been unsuccessful. With the Chick-fil-A company policy of being closed on Sundays, it appears the Brownwood location could open Monday, Oct. 19. The sign at the new location encourages those interested to apply for jobs now.
Some employees from the Early Chick-fil-A are expected to move to the Brownwood location, but a number or percentage was not available Thursday night. Early employees have not been told when the Brownwood location will officially open.
The closure of the Chick-fil-A location in Early will likely have significant ramifications on Heartland Mall, as the restaurant by far received the most traffic. However, since late August the restaurant has had to close briefly on two occasions due to small electrical fires.
BrownwoodNews.com will provide additional information on the opening of the new Chick-fil-A location in Brownwood, as well as the future of Heartland Mall without Chick-fil-A, as soon as possible.