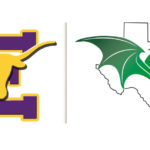 STEPHENVILLE – The Bangs Lady Dragons placed second, the Bangs Dragons came in third, the Early Longhorns were fourth and the Early Lady Horns finished fifth during the Class 3A girls and boys portions of the Stephenville Thrill of the Hill cross country meet Wednesday.
In girls action, the Lady Dragons tallied 62 points which trailed only champion Eastland (32 points. Bowie (71) was third, Dublin (82) finished fourth and Early (95) was fifth.
For Bangs, Hannah Person led the way with a third-place time of 14:18.19 followed by Hadley King (11th, 15:13.81), Rylie Guerrero (12th, 15:29.56), Cloie Montague (16th, 16:07.17), Kimberly Diaz (20th, 16:39.13), Sydney Hager (21st, 16:51.52), and Audrey Ivey (26th, 17:43.05).
For Early, Madison Torrez was the top finisher in eighth place with a time of 14:46.03, trailed by Preslee Richmond (13th, 15:33.77), Trinity Torrez (19th, 16:37.12), Lillie Brandstetter (27th, 18:00.95), Yasmin Ibarra (28th, 18:01.57), Memorie Castro (29th, 18:02.61), Skylar Peterson (32nd, 18:48.87), Nevaeh Tollett (33rd, 19:15.92), and Presley Dunlap (34th, 19:35.28).
In boys action, Dublin (18 points) finished first as a team followed by Eastland (37), Bangs (92) and Early (99).
For the Dragons, Chris Diaz was the top finisher in 11th place with a time of 21:52.36 followed by Ventura Castaneda (20th, 23:27.89), Caedmon Tidwell (21st, 23:43.92), Dee Klutz (22nd, 23:50.01), Malachi Fales (27th, 26:32.24), and Weston Scantling (29th, 28:45.87).
The Longhorns were led by J.D. Nowell in 18th place with a time of 22:46.2, trailed by Will Prochaska (23rd, 23:57.09), Calvin Clubb (24th, 24:38.50), Grant Leigh (25th, 24:51.17), Mathew Chambers (27th, 27:10.49), Caygen Schroeder (28th, 27:17.89), Ethan Pallette (30th, 29:22.96), Keegan Waldorf (31st, 29:44.23) and Nathan Tollett (32nd, 31:45).
Bangs will run at the Ballinger meet on Oct. 14, while Early's next meet will be at Dublin Oct. 21. The District 8-3A meet is slated for Oct. 28 at Dublin.