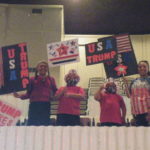 Brownwood News – Approximately 200 persons attended the "Keep Texas Red" rally Sunday afternoon in the Brownwood Coliseum.  The rally was hosted by the Brown County Republican Party.
The invocation was given by Republican Precinct 202/204 Chairman Harold Hogan.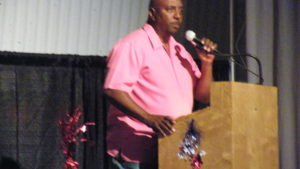 Retiring U. S. Congressman (District 11) Mike Conaway addressed the crowd via a video recording from Alabama, where he was visiting his mother.  Conaway spoke to the theme of the event, urging everyone to vote red (Republican) to maintain conservative values.
Also speaking to the crowd via recorded video were Connie Burton, former Texas state senator, Lt. Colonel (Ret.) Allen West, Chairman of the Texas Republican Party, and Nick Adams, conservative author.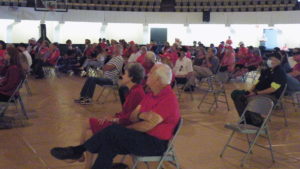 Attending in person and speaking first was Dr. Glenn Rogers, candidate for the Texas state House of Representatives, District 60.  Rogers said:  "To put the 2020 election in perspective, one has to merely look back at 2016.  If Texas had been blue (Democratic), and Hilary Clinton had been elected, we would have three liberal justices on the Supreme Court.  Overturning Roe v. Wade would not be possible in my lifetime, and possibly not in my children's lifetime.  We would not have relative peace throughout the world through increased American military might.  Our precious Second Amendment rights would be under increasing attack.  Our taxes would be higher.  The unprecedented economic prosperity that we saw prior to COVID would not have occurred."
Texas Senator Dr. Dawn Buckingham, and running for re-election in District 24, spoke next.  She was asked why this election is important:  "There is nothing more important than rural Texas in this election.  We have worked hard from the beginning to represent District 24 well, and hard in this pandemic to get Texas open safely, and are fighting to bring those principles back, get a stronger district, and keep Texas red."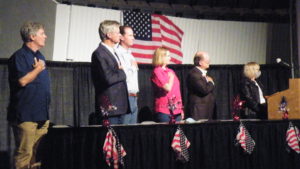 August Pfluger, candidate to replace Mike Conaway in the U.S. Congress, District 11, talked about the important choice in this election:  "It's just so critical right now.  The choice we have right now is a way of life choice.  What the Republicans are trying to do, under the leadership of President Trump, is to continue our prosperity, our freedoms and our liberties that the Democrats want to take away.  So right now every single person should be making sure they are registered, and the last day to register is tomorrow, the 5th of October.  And then on the 13th of October early voting starts.  We are working hard to make sure that we can get this election going the right way, keep the country moving in the right direction and support our President and all the (Republican) candidates down the ballot."
Steve Munisteri, former Deputy Assistant to President Trump in the White House, spoke about the economy under Trump:  "The American people want to know, do they have a job, and are they making more money?  The answer is Yes and Yes.  Never in the history of the United States, since they have kept records, has there ever been a time when there were more job openings than job seekers.  And in 2019 the average American family had increased their family income by $4100.  So we had more jobs than job seekers, and the highest average income.  Isn't that the definition of success?  Isn't that the definition of making America great again?"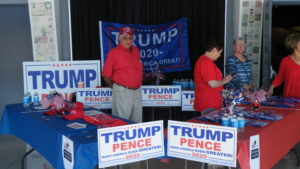 Also addressing the crowd was Bert Richardson, current Judge on the Texas Court of Criminal Appeals, and running for re-election.