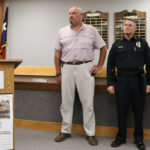 With the attempted kidnapping of a child in Early earlier this month, and the arrest of 15 – including 12 in Brown County – for online solicitation of minors in August, the Early Police Department, Brownwood Police Department, Brown County Sheriff's Office and the Children's Advocacy Center held a joint press conference Thursday afternoon to discuss how parents and guardians can protect against child trafficking.
Early Police Chief David Mercer opened the press conference stating local law enforcement officials have received an abundance of feedback since the arrest of Ronnie Jackson on Sept. 17, who was charged with the attempted kidnapping of a 4-year-old girl.
"It's been brought to our attention that many people have been concerned since that happened," Mercer said. "Local parents and families have been very edgy about the safety of our kids in our cities and county. Cases like these are not common here but they do happen."
Brownwood Police Ed Kading noted that human trafficking and human smuggling are often confused, but far different crimes.
"Trafficking does not require any movement," Kading said. "A child can be trafficked out of their own home. That's obviously very hard to detect if we're not willing to speak to each other and get involved in each other's lives anymore. Human trafficking occurs in every state and communities of every single size."
Kading also spoke about identifying individuals who are potential threats to children.
"We've been involved in too many of these investigations over the years and people have asked me 'who am I looking for?' or 'who is a human trafficker?' Unfortunately, it can be anyone," Kading said. "There is no consistent description I can give and tell you what to watch out for. It can be someone in Brown County or it could be someone who comes into our county.
"But you can get online and research what these apps are, what they're called. We had an excellent operation several weeks ago using some of these apps. It's amazing and scary how many predators are online. The dark web is a whole different animal where you can do any kind of crime, including human trafficking, and it's becoming more and more prevalent. There are people who will exploit our most vulnerable population which is our children or others in our community that cannot protect themselves."
James Stroope, Chief Deputy with the Brown County Sheriff's Office, spoke of the dangers of social media in regard to child trafficking.
"With everything going on and with computers being issued at such a young age, children having cellular devices, it seems we keep going back to Snapchat as the hot topic for the explotation of children," Stroope said. "We've worked some cases here in the county, along with the Brownwood Police Department, DPS and Homeland Security utilizing social media pertaining to child trafficking. That's something as parents we need to be diligent about – checking our children's devices – and be sure we're looking at them regardless of what they believe. You are solely responsible for your child and it is our responsibility as parents to see that our children aren't doing something they shouldn't be doing and being misguided by other figures in their life or peer pressure in school. We don't have a large communication one on one anymore with people, it's more through social media and electronic devices and that's become quite an issue for us."
Stroope also listed some of the more notorious apps when it comes to child trafficking.
"There are so many apps out there that I can't even begin to tell you what all to look for," Stroope said. "Some that come off the top of my mind are Kick, Meet Me, Me/We, Snapchat, Instagram and Facebook has a messenger, those are the popular ones we see. Make sure you check your web browser, check your kids' internet. Be diligent in checking it to make sure your children aren't being trafficked through that through peer pressure."
Crystal Wyatt with the Children's Advocacy Center offered a variety of tips to parents and guardians to help keep an eye on their children and the digital fingerprint they leave.
"We want to make sure you're always vigilant," Wyatt said. "Phones are something we always have in our hands all the time, and they can be a distraction a lot of the time. If you find yourself in a situation like what we had happen in Early, we want to make sure you get yourself and your children to a safe location. Also, get a good description and take notes."
Wyatt also suggested:
* Teach your children not to trust so easily. We're making communication with people on social media, we're not really talking with people face to face anymore. Just because they meet someone online it doesn't make them their friend.
* Teach your children and yourself, if someone is offering you a job or promising you something that's too good to be true, it probably is.
* Collect all bed time devices. You're a parent and you're responsible for those devices. Take them up, make yourself well aware of who your kids are talking to, what they're doing online, what apps they have. This is never going to be invasion of their privacy, this is your job to keep them safe.
* Always trust your instincts. If you have a bad feeling about something, it's always better to be safe than sorry.
Wyatt added that if you suspect something is amiss in regard to potential human trafficking, you should report it to local law enforcement. There is no crime in reporting suspicious activity, and the individual who reports the information will remain anonymous.
Kading said, "The way our society in the country has been the last several months, it's time we have some of these hard conversations and talk about the safety of our children and our vulnerable populations. If you see something, if you know something, you've got to say something. We have to re-engage as a community and watch out for our kids."