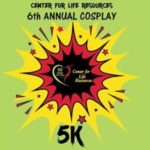 The Cosplay Relay Sixth Annual 5K Run, to benefit the Center for Life Resources, will take place at 9 a.m. Saturday at Riverside Park in Brownwood.
Dress up in your favorite costume as a superhero, movie or TV character. The run is open to people of all ages and will be timed with winners for the different age groups. This is a fun event that you can bring the whole family.
Early registration is $30 or $15 for ages 12 & under. Day of the race registration is $40. Visit runsignup.com/Race/TX/Brownwood/ColorsofRecovery5K to register online.