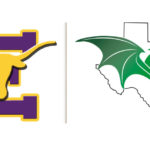 BANGS – In the fight for one of the four playoff berths from District 6-3A, the Bangs Lady Dragons got a jump on the rival Early Lady Horns thanks to a five-set home volleyball victory Tuesday night.
"It was such a fun game," said Bangs second-year head coach Cheyanne Lovelady. "The girls played so hard and I'm proud of the way they never gave up."
Bangs improved to 2-3 in district play and 5-7 overall with the win, while Early slipped to 1-4 in league play and 6-7 on the season.
The Lady Dragons received 14 kills from Brooklyn Mullins along with six from Maggie Morales, five apiece from Jacee Miller and Halle Lance and four kills from Cloie Montague.
Lance chipped in 13 assists while Hadley King added five, and Jordyn Pitts contributed four aces while Lance and Avery Bierra served a pair.
Defensively, Skylar Hutchins recorded 28 digs followed by Lance with 26, Miller with 14, Pitts with nine, Montague with seven and Bierra with six.
For the Lady Horns, Taylor Summers sparked the offense with 10 kills followed by Carrigan Norris with six, Savannah Holt with five, Gwen Phillips with four, Grecia Yebra and Alexa Portillo with three apiece and Bethany Tomlinson with one kill.
Tomlinson dished out 11 assists trailed by Summers with 10, Grace LaRue with three, and Holt with one.
Norris served five aces for Early followed by LaRue and Portillo with one each.
Defensively, Norris collected nine digs trailed by LaRue and Summers with eight each, Madie Waldorf and Portillo with two apiece, and Yebra and Tomlinson with one each.
Holt was credited with 20 blocks followed by Phillips with 11, Norris and Summers with two each and Yebra with one.
Early is set to host Eastland at 4 p.m. Friday while Bangs welcomes Brock at noon Saturday.