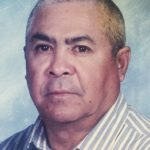 Luciano 'Jerry' Espitia of Coleman, Texas passed from this life to the arms of Jesus surrounded by his wife, children, grandchildren, siblings and nieces on Thursday, September 10, 2020 at 8:00 PM at Hendricks Medical Center in Abilene at the age of 73 years.
            Holy Rosary will be recited on Sunday at 7:00 PM at Henderson Funeral Home preceded by the family receiving friends and family for a visitation from 6:00 to 7:00 PM.
            Mass of Christian Burial, with Father Laurent Mvondo officiating, will be held Monday at 2:00 PM at the Sacred Heart Catholic Church.  Interment will follow at the Coleman City Cemetery with services under the personal care of Henderson Funeral Home Staff of Coleman.
Luciano Enrique Espitia, Sr. was born January 7, 1947 in Coleman, Texas to Raymond Espitia, Sr. and Juanita Kile Cardenas Espitia.   He was a lifelong resident of Coleman County where he attended Coleman ISD and was a faithful member of Sacred Heart Catholic Church.  On May 13, 1965 Jerry married Santos Gonzales Diaz in Coleman, Texas and they lovingly celebrated fifty five years of marriage.
Jerry was employed as a trackman until his retirement in 200   7 with Santa Fe Railroad. He cared for his family and home and was a talented gardener.  He will be greatly missed and fondly remembered by the lives he touched.
Those left behind to cherish his memory are his wife, Sammie Espitia of Coleman; 4 daughters, Rhonda & husband Joe Rosales, Jr. of Coleman, Bridget Espitia of Levelland, TX, Margaret & husband Carlos Mata, Jr. of Coleman, Deborah Espitia & Ricky Hurtado of Coleman, 6 sons, Johnny Espitia of Abilene, TX, Christopher & wife Judy Espitia of Hobbs, NM, Luciano "Ricky" Espitia, Jr of Abilene, TX, Gilbert Espitia, Sr. of Coleman, David Espitia of Coleman , Michael Espitia of Coleman, 4 Sisters, Mary & husband Connie Mendoza of Coleman, Gracie & Danny Gill of Abilene, TX, Janey Gist of Dallas, TX, Sylvia  & Cip Salinaz of Coleman, 2 Brothers, Joe & wife Marie Espitia of Ft Worth, TX and Robert Espitia of Abilene, TX, 26 Grandchildren & 9 Great Grandchildren
He was preceded in death by his parents, 3 sisters, Mary, Dorothy, Lupe, 6 Brothers, Porfiie, Reyes, Roberto, Gavino, Ramon & David, grandson, Johnny Espitia, Jr in 1989