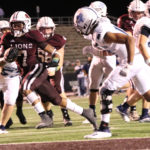 The Brownwood Lions target their first win streak of the 2020 campaign and look to remain undefeated at Gordon Wood Stadium as the former district rival China Spring Cougars come calling Friday night. Kickoff between the Lions (1-1) and Cougars (2-0) is set for 7:30 p.m.
The Lions, ranked No. 14 in Class 4A Division I this week by Harris Ratings Weekly, are coming off a 35-15 victory over Midland Greenwood.
Head coach Sammy Burnett, who was quarantined last week and will be again Friday night, said of the Lions' initial victory, "I thought we saw progress defensively, I thought we swarmed to the football. We did some things to try to change up our personnel to try and keep us fresher through four quarters. They did extremely well, had a great game plan going into the ball game, forced some turnovers, and that was the difference in the ball game.
"Offensively, we were very opportunistic. When you have short fields you have to find ways to put points on the board. All in all when we didn't step on our own feet, when we didn't give ourselves long downs and distances I thought we did a decent job. We're still looking for more production in the run game, which sets up the passing game. I was really pleased with the first drive of the game, we just marched down there and punched it in but never really adjusted to what they were doing. They sort of stymied our run game in my opinion, but I thought Royshad Henderson ran extremely hard and I thought out kids played very hard.
"Defense wins championships and they gave us the opportunity to win a ball game last Friday night against a very good football team, so all in all I'm very pleased with the production of our kids and glad they had an opportunity to get them a win."
China Spring – ranked No. 19 in Class 4A Division II by Harris Ratings Weekly and No. 10 by Dave Campbell's Texas Football – enters the game coming off victories of 74-35 over Benbrook and 42-13 over Lorena.
"Knowing some of the personnel and their staff, there's not really any love lost between Brownwood and China Spring the last couple of years and I think our kids will be ready to play," Burnett said. "They have a couple of kids on their team that used to play for us in Jayce Day and Major Bowden. Our kids know that and I'm sure they talk a little garbage. We're just going to prepare ourselves and go out there and try and play a great ball game. We've got two good game plans, once again I'm communicating with Coach (Andy) Howard and Coach (David) Jones multiple times a day. Our defense is right where we want it to be right now, our offense is still lagging a little bit but I feel they'll eventually get there."
The Cougars finished with 620 yards, including 527 rushing, against Benbrook and generated 428 yards, with 353 coming on the ground, against Lorena. In the win over Lorena, Bowden rushed for 78 yards and a touchdown and completed all four of his pass attempts for 75 yards. Emmanuel Abdallah carried the ball 25 times for 152 yards and four touchdowns, while Brayden Faulkner chipped in 112 yards and a touchdown on just three carries.
"I feel the key to the game is stopping Major Bowden," Burnett said. "He's playing quarterback for them, he likes to run the ball, he's very fast, a very athletic young man as most people know. He can throw the ball but I think it's more of the run game with them. They're going to try and do some option stuff and try and keep the ball on the ground, stay ahead of the chains and move the ball that way. They've had a lot of success this year, scored over 100 points in two football games this year. We'll have our hands full defensively."
The Brownwood defense enters the contest allowing 35.0 points and 361.5 yards – 280 rushing and 81.5 passing – on average with five takeaways, all of which have been converted into touchdowns. Standouts on defense include Khyren Deal (25 tackles, 1 for loss), Malachi Revada (21 tackles, 1 for loss, 1 INT), Reece Bolton (14 tackles, 2 for loss), Kris Hobbs (11 tackles, 2 for loss, 1 sack, 1 FR), Blaize Espinoza (9 tackles, .5 sacks), Dryden Anderson (9 tackles, 2 for loss), Hunter Day (8 tackles, 1 INT), Jordan Leach (8 tackles), and Zach Bond (8 tackles).
China Spring is giving up 24 points per game thus far.
"They have a lot of kids returning off a good football team last year," Burnett said. "Defensively they're good up front, they have good linebackers, and they do a good job in the back end. They're doing a little bit of coverage change from what we saw them do last year, they were a cover 2, cover 4 team last year and they're doing a little man coverage on the outside and doing some combo coverage with their outside backers and safeties on the inside. I think we have a good game plan, we just need to be able to go out and execute, don't have any turnovers, be able to move the football on the ground and I think that opens up the passing game."
On the offensive end, the Lions are generating 29.0 points and 266.5 yards – 109.5 rushing and 157.0 passing – per game, with four giveaways.
Royshad Henderson has rushed for 225 yards and four touchdowns, while Chance Jones has completed 15 of 25 passes for 130 yards with one touchdown and one interception. Leading receivers include Dane Johnson (9-68), Jason Jackson (7-115, 2 TDs), Henderson (3-60, 1 TD), Deal (2-48), Elias Huerta (2-20).
"I want to see better execution," Burnett said of the offensive goals against China Spring. "We had opportunities to complete some passes and didn't do it, we threw an interception on a ball that should have been completed to a wide open receiver, so I want to see growth at the quarterback position. I also want to see growth on the offensive line and us having the ability to move the football better. All in all I think we have a long way to go offensively, and I think our defense is tracking along just fine which is usually how things work during the course of the early season."

According to Harris Ratings Weekly, Brownwood is a 7-point favorite.
Brownwood Lions 2020 Football Stats
Through 2 Games (1-1)
TEAM OFFENSE
29.0 points per game (58)
266.5 yards per game (533)
109.5 rushing yards per game (219)
157.0 passing yards per game (314)

PASSING
‒ Blaize Espinoza
9 of 20 for 184 yards, 2 TDs
‒ Chance Jones
15 of 25 for 130 yards, 1 TD, 1 INT
RUSHING
‒ Royshad Henderson
225 yards on 46 carries, 4 TDs
‒ Blaize Espinoza
-2 yards on 4 carries
‒ Chance Jones
-4 yards on 14 carries, 1 TD
RECEIVING
‒ Dane Johnson
9 catches for 68 yards
‒ Jason Jackson
7 catches for 115 yards, 2 TDs
‒ Royshad Henderson
3 catches for 60 yards, 1 TD
‒ Khyren Deal
2 catches for 48 yards
‒ Elias Huerta
2 catches for 20 yards
TEAM DEFENSE
35.0 points per game (70)
361.5 yards per game (723)
280.0 rushing yards per game (560)
81.5 passing yards per game (163)

TACKLES
‒ Khyren Deal
25 tackles, 1 for loss
‒ Malachi Revada
21 tackles, 1 for loss, 1 INT
‒ Reece Bolton
14 tackles, 2 for loss
‒ Kris Hobbs
11 tackles, 2 for loss, 1 sack, 1 FR
‒ Blaize Espinoza
9 tackles, .5 sacks
‒ Dryden Anderson
9 tackles, 2 for loss
‒ Hunter Day
8 tackles, 1 INT
‒ Jordan Leach
8 tackles
‒ Zach Bond
8 tackles
‒ Chance Jones
7 tackles
‒ Konlyn Anderson
7 tackles
‒ Tyler Tiner
7 tackles
‒ Cade Jetton
4 tackles, 1 FR
‒ Christian Chambers
4 tackles, 1 FR
‒ Royshad Henderson
3 tackles
‒ Spencer Scull
3 tackles
‒ Zaiden Lopez
2 tackles, .5 sack
‒ Ethan Pesina
2 tackles
‒ Dane Johnson
2 tackles
‒ Elias Huerta
2 tackles
‒ Trevor Evans
1 tackle
‒ Roman McKibbon
1 tackle
‒ Taylor Bessent
1 tackle
‒ Jimi Brown
1 tackle
‒ Baylor Tidwell
1 tackle


TURNOVER MARGIN: (+1)
Brownwood 4 — 3 fumbles, 1 INT
Opponents 5 — 3 fumbles, 2 INTs