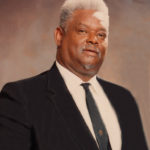 Pastor Emeritus L.C. Smith was the second son of Harry and Mary Ella Smith. He was born on September 5, 1937, and raised in Camden, Texas until he relocated to Phoenix, Az. There he met and married the love of his life, Vivian Inez Craddock on January 28, 1959. Elder Smith later received the Holy Ghost during a prayer meeting at the home his sister and brother-in-law, the late Norris "Jack" and Eliza Brown in Mount Pleasant, TX while on vacation. He returned home a new creature in Christ and begin to serve as a minister under Bishop J.C. McGee in Arizona.
L.C. and Vivian later moved back to Texas and on March 19, 1983 and at the home of the late Bishop J.A. Alexander he received his ordination to Elder. He served in ministry with the late Elder Eli Shavers at Powerhouse COGIC and was later appointed pastor on April 28, 1984, of Whole Truth COGIC in Brownwood, TX.
It was one faithful day in 1985 that he visited a little church in Coleman, Texas named Mount Calvary COGIC that had been without a pastor for 2 years. The chairman Deacon Mike Childress along with the Church Mothers were gathered in prayer when Elder Smith walked in. Immediately Deacon Childress started praising God as he felt God had sent the next Pastor.
Elder Smith accepted the assignment as pastor and began the work of not only preaching and teaching but also of building. He built a cafeteria with his own hands where the Saints could have church while a new sanctuary was being erected. That new edifice and new cafeteria were not only completed but were totally paid in full. The church's outreach ministry called the "fishes and loaves" and the Two-Step Program was also implemented as another benevolent arm to assist with feeding the elderly and those in need.
The City of Coleman was delighted also to gift to Mt Calvary the Humphrey Elementary & High School property which is designated as a historical landmark being the first African American School in the City. Elder Smith worked for the Department of Highways and Public Transportation where he received several awards, most notably recognized for his Extra Mile award which highlighted his bravery in saving lives caught in floodwaters during a major storm.
Elder Smith worked faithfully in ministry for 35 years with the help of his loving wife until his retirement on October 14, 2018.
He is preceded in death by his wife of 53 years the late District Missionary Vivian Inez Smith; both parents, Harry and Mary Ella Smith; sister, Corine Finley; brother Wiley Smith, and a granddaughter Lisa Inez Barnes.
Pastor Emeritus L.C. Smith is survived by one daughter, Mother Mary E. Barnes (Rudolph H. Sr) of Brownwood, Tx; two sons Minister Stanley Smith (Shiki) of Phoenix, AZ; and Marcus I. Smith of Dallas, TX. 11 Grandchildren Rudolph Barnes (April), Kevin Barnes(Sonya), Vivian Sullivan (Irby Jr), Brianna and Aubrie Taylor, Jada, Joanie, Stanella, Maya, Paris, and London Smith of Phoenix, AZ. Two sisters Marine Wheeler and Dorothy Carroway of Houston TX, a brother A.J. Smith of Seattle, WA, 10 great-grandchildren, and a host of nieces and nephews, cousins, family, and friends.
Online condolences can be made to the family at www.heartlandfuneralhome.net.