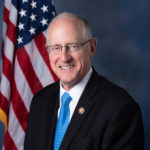 Brownwood News – U.S. Congressional Representative Mike Conaway visited with constituents Tuesday evening at the Depot Civic Center.  Conaway, who has represented District 11 for sixteen years, is retiring from Congress after this year, and was making his final visit to Brownwood.
There are two main issues remaining in Congress this year.  First is funding.  "The only obligation Congress has is to fund the government, which begins October 1st."  Conaway said the House of Representatives has passed twelve appropriation bills for the new fiscal year, but the Senate has passed none of those.  That is because the House bills reflect the priorities of the Democratic Party majority in that chamber.  The Senate, with a Republican Party majority, has different priorities.
With time running out, the most likely action will be a Continuing Resolution, which funds the new fiscal year exactly like the old fiscal year.  Conaway said that works fine for most departments, but not for the Department of Defense. Each year the Department of Defense needs to make big changes to its budget, but a CR does now allow them to do that.  It is very disruptive to the DoD, according to Conaway.
A Continuing Resolution carries the risk that someone might try to add a controversial rider that the opposing party refuses to support, causing the CR not to pass, and the government to shut down.  But this year "nobody want to shut down the government a month before the election.  That is a disaster.  I expect the CR to get done fairly quickly."
Another thing that "might or might not get done" is another round of Corona virus stimulus.  Earlier this year Congress approved a $2.5 trillion bill to help those affected by the pandemic.  Now, House Speaker Nancy Pelosi has proposed another stimulus package of $3.4 trillion, "beyond the pale of irresponsibility", according to Conaway.  Senate Majority Leader Mitch McConnell has proposed a $1.0 trillion stimulus package.  "I don't think we should borrow more money to spend on this issue," Conaway said.  If either proposal comes to a vote, he will likely vote no.
Conaway said he believes many of the restrictions on business and other activities, imposed for the pandemic, will be relaxed after the election in November.  He also hopes and believes many governors and mayors will take a different approach to lawlessness after November 3rd.
Concerning his successor, Conaway said "I have high hopes and high expectations for August Pfluger.  If he is elected, I want him to be the best prepared Congressman in this freshman class.  I will try to make sure that happens."
In closing, Conaway said "Thank you for trusting me and voting for me eight times.  Thank you for a great sixteen years."
After the remarks, Brownwoodnews.com visited with Representative Conaway.  We will publish a transcript of that interview in a separate story.