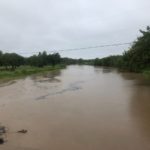 Temperatures dipped into 50s Wednesday and nearly three inches of rain fell in downtown Brownwood since midnight as a strong cold front made its way through Brown County.
The rain is benefiting Lake Brownwood where the water level has steadily risen throughout the day. The water level was 3.8 feet below the spillway early Wednesday and stood at 2.9 feet below the spillway at 2:45 p.m.
A 60 percent chance of rain remains in the forecast with a high of 58 degrees, then rain chances slip to 20 percent Friday with a high of 72 degrees. High temperatures will return to the 80s Saturday with no more than a 30 percent chance of rain through Wednesday.