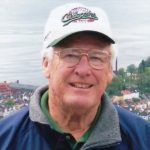 Harold Edward "Tody" Denhart, of Bangs, passed away on September 7, 2020 in a Fort Worth hospital. A private family burial will be held at Bangs Cemetery on Thursday, September 10, 2020 with Sally Fleming officiating, under the direction of Heartland Funeral Home.
Harold was born to Ray Harvey and Agnes Beale Denhart on October 2, 1938 in Center City, Texas. He graduated from Bangs High School in 1957. After a tour in the US Navy, he was honorably discharged as a 3rd Class Petty Officer Radar-man then returned home to attend North Texas State University.
He was employed by Bell Helicopter as an Ultrasound Inspector. After his father's passing in 1978 he returned to Bangs to work in the family oil and gas business. While in Bangs he served two terms on the Bangs City Council and the Bangs Cemetery Board. He met Barbara R. Lloyd in 1983 and they were married in June 1985. In 1986, he returned to work at Bell Helicopter as a Union Steward and retired in 1999. After returning to Bangs he and Barbara purchased land west of Bangs and started raising and breeding registered Charolais cattle on the County Line Charolais Ranch. They were blessed to be able to travel to many countries and lived a very full and happy life together. He was a huge supporter of the Bangs Dragons and rarely missed any sporting or UIL event.
He is preceded in death by his parents Ray and Agnes Denhart and brother Harvey Gene Denhart.
He is survived by wife Barbara, daughters Crystal Browder and husband Steve Browder of Brownwood, Lynn Oliver of Abilene and son Don Oliver of Lake Fork and sister-in-law Rhilo Fahir of Bangs. Grandchildren Justin Price, Zac and Amber Browder, Darcy and Skip McLinden, Lyndsey and Bill Talton, Brook Parker, Tabitha Thomas, Aaron Oliver, Mason Oliver and 11 great-grandchildren.
Condolences, memories and tributes can be offered to the family online at heartlandfuneralhome.net.