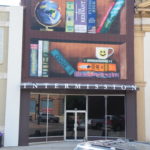 Brownwood News – The newest addition to the revival of downtown Brownwood debuted on Saturday.  Intermission Bookshop opened at 203 Center Ave. in concert with Independent Bookstore Day.  It features gently-used books in all genres:  classics, fiction, history, children's, religion, self-help, business, romance, young adult, mystery, etc.
When Kim Bruton bought the building in November 2019, she had no idea what she was going to do with it.  But she already owns two buildings in downtown – The Pioneer Taphouse and a four-plex apartment building – and she knew she wanted to be more involved in the revival of downtown.
"When we purchased the building in November, we didn't really have a vision for it.  We secured a contractor and he began dismantling it.  I was praying about it.  I had been meditating and reading, and going over my Bible study.  It was the Sunday before what would have been my good friend Nanda Wilbourn's birthday.  I was outside praying and reading, and I was just pausing and slowing down, and it just came to me.  It's going to be a book shop!"
The building first attracted attention a few months ago when the front was painted with a mural depicting a bookshelf, books, a coffee cup, and a globe.
While the name Intermission is a hint to slow down and read, it is also a nod to the history of the building.  In the first half of the 20th century, the building housed The Queen movie theatre.  Throughout the building, you can still see evidence of its movie theater days.  There are even some movie theater seats in Intermission, though they did not come from The Queen.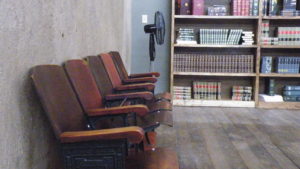 "It is unlike any book store that I have been to.  The building itself is very old.  We stripped it down and exposed all the imperfections.  We really wanted to showcase that.  We tried to re-purpose the wood any place we could.  The furniture is very old.  The majority of the books have been given to us.  They are very gently used books.  The outpouring of support and donations from this community has been just overwhelming."
The front room, in what used to be the lobby of the Queen Theater, showcases classic books on a high book shelf against the left wall, complete with rolling ladder.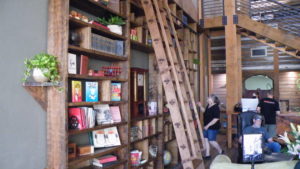 There are plenty of sofas and comfy chairs in the front room, along with a coffee and hot tea stand.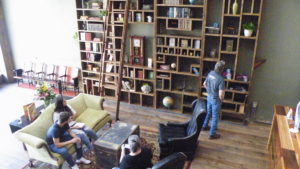 A loft was built above the front room, with more books and sofas.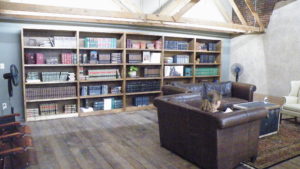 From the front room you pass through a hallway/archway lined with used books, a clever and unique touch.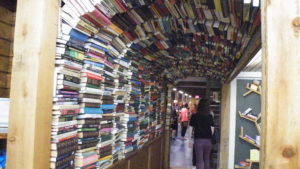 The back room holds most of the books, divided into sections for the above mentioned genres.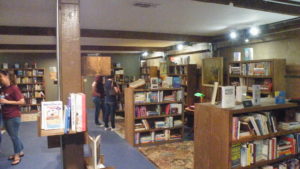 There is even a space devoted to reading with children.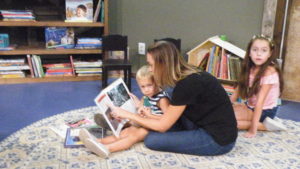 The back room also has plenty of comfortable seating.  "The seating is such that it encourages interaction between people,"  Bruton explained.  "We want this to be a community space, used for small groups, space used for people just having conversations, slowing down, and getting to know one another."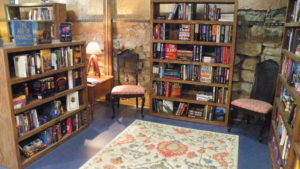 Bruton emphasized that she has really bought into the revival of downtown, and wants this store to tie in with other businesses downtown, new and old.  "I want this book shop to be the community's book store."  The Intermission Bookshop can be booked for small meetings and events.
The majority of the books are donated, and they will accept more books.  They will also, in some cases, accept books as a credit towards the purchase of another book.  And you can order new books through their web site:  intermissionbookshop.com.
The Intermission Bookshop will be open Tuesday-Wednesday-Thursday 11:00 a.m. until 6:00 p.m.; Friday and Saturday 11:00 a.m. until 8:00 p.m.
For more information see the above web site, email to: intermissionbookshop@gmail.com, or call 325-203-5239.