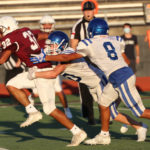 The Brownwood JV and Freshman Lions opened their seasons with home victories over Lampasas Thursday at Gordon Wood Stadium.
JV Lions 41, Lampasas 13
Quarterback Braden Daub ran for two touchdowns and threw one to Luke Moss. On the ground, running back Azariah Dillard ran for two touchdowns, and running back Micheal Rodriguez added another.
Case Markham also had two long punt returns to set up Lion scores.
The Lions defense played tough all night limiting the Badger offense to under 50 yards rushing.
Seth Adkins, Taylor Bessent, Brandon Holland, William Odell, and Bryan Osbourn all led the defense with tremendous effort and execution.
Jackson Yoder did an excellent job of place kicking for the Lions and Daub punted the ball well.
Freshman Maroon Lions 17, Lampasas 6
The Lions opened the scoring with a 15-play drive that ended on the first snap of the second period with a 1-yard touchdown pass from Gavin Brandstetter to Marsello Hooker. Hudson Reagan converted the PAT for a 7-0 lead.
Lampasas closed the gap to 7-6 midway through the third quarter, but was stuffed on a 2-point conversion attempt.
Brownwood immediately answered and boosted its lead to 14-6 on a 58-yard scoring toss from Brandstetter to Jordyn Nickerson, with Reagan again adding the PAT.
The Lions then put the game out of reach late in the fourth period with a 20-yard field goal by Reagan. An interception by Stevie Ramirez set up the final points.
Defensive standouts included Ramirez with five tackles, including one for loss, and a pick; Logan Posey with two tackles, including one for loss, and an interception; Jaylan Brown with five tackles; and Hayden Deen with three tackles.
Blanco 35, Freshman/Sophomore Lions 0
Brownwood does not have enough linemen for a Freshman White team, so instead there is freshman/sophomore combined team that consists of 15 JV kids and 12 freshmen.