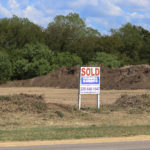 For those who traveled on C.C. Woodson earlier this week, plenty of work could be observed on the property across the street from Victory Life Church. However, all the activity taking place at the location is for other construction projects.
"The BMDD purchased this property a while back and we use it for fill dirt for projects in the flood plain in the area along our retail corridor – Chick-fil-A as an example," said BMDD Executive Director Ray Tipton. "There is no development that is going to go on the property."
The Brownwood Municipal Development District acquired the land in November 2019 and a "SOLD" sign has been on the property for the last few months.
The new Chick-fil-A location at 500 East Commerce Street across from Whataburger is slated to open in the fourth quarter of 2020, according to Tipton.