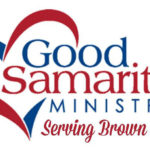 Much has changed since March when COVID-19 cases began appearing in Brown County. But one thing has not changed, and that is Good Samaritan Ministries' commitment to assist families in Brown County that struggle with the effects of poverty.
"Our Food Pantry has remained open throughout these challenging months," Executive Director Leesa Stephens said. "We changed our operational model a bit, but we have remained open five days a week to provide baskets of grocery staples to families in need."
In the early days of the pandemic, GSM served all clients curbside. Today, they are using a hybrid model of curbside and in-person interviews.
"We give clients the option of coming in to interview or staying in their cars," Stephens said. "We are following Gov. Abbott's order about masks. Clients choosing curbside service, call when they arrive. A volunteer or staff member greets them, gets their information and then the food basket is taken out to the car. Around 40% of our clients still prefer to stay in their cars and have curbside delivery."
Adding a curbside delivery option has not been without challenges, especially without regular volunteers.
"In late March and April our Resale Store did close and we asked our volunteers to stay home and stay safe while we all learned more about combating the virus," Stephens said. "We had all of the Resale Staff to assist us with curbside delivery and we really needed all the extra hands. The Resale Store reopened in May, so that staff was no longer available to help with the Food Pantry."
Stephens said that volunteers who are the lifeblood of all that happens at GSM have been slow to return to their regular schedules.
"In June we allowed any volunteer who felt comfortable to return, but only 38% have started volunteering again," Stephens said. "Sadly, we have some that have indicated that they will not be returning. We seeing about 60% of the families we saw before the pandemic without the valuable assistance of our volunteers. We really need new folks to come and join us."
Stephens encouraged recent retirees or those who have moved to the area to drop by Good Samaritan at 305 Clark Street and learn about the different opportunities for service that are available.
"Stacy Walker, our Volunteer Coordinator, loves to show people around and explain all of the volunteer options," Stephens said. "For most people, volunteering just one day per month for four hours can really help us out. Our biggest need at this time is people who would like to work the register area of our Resale Store."
The Good Samaritan Resale is open to the public selling gently used and gently worn clothing, shoes, home décor and other items.
"The Resale Store supports the operation of our Food Pantry," Stephens said. "It is open to the entire community. Anyone who loves a bargain will find several. Our motto is 'You shop. You save. You support a great cause.'"
In January, Good Samaritan opened its new Donation Center at 200 Chandler to assist with the high volume of non-food donations that the Resale Store receives.
"Our Donation Center remained open throughout the pandemic shelter-in-place days, and we know what people did during that time—cleaned out closets!" Stephens said. "We averaged 35-40 cars each day as families blessed us with items they no longer needed. We are still seeing about 30 cars per day."
The Donation Center on the corner of Clark and Chandler Streets just one block from the main GSM offices is open Monday through Friday with the same business hours as the Resale Store and Food Pantry.
"We are still trying to spread the word to Brown County about this new location," Stephens said. "It is so convenient because you can just pull through our covered drive and the Donation Center staff will come out and help you unload. We are so blessed to have this facility operational."
Fall is normally the busiest time of year for Good Samaritan with Deer Project, #TackleHunger Month, Food for Thought and the National Night Out Tuna Challenge all scheduled.
"We are planning like most other schools, businesses and agencies right now: Plan A is business as usual while Plan B is adapting to the next COVID challenge," Stephens said. "We are prayerful that we will be able to continue all of our regular activities, but we realize that things could change in a day's notice."
For more information about Good Samaritan Ministries, call 325-643-2273, visit the website www.goodsambwd.org, or follow their Facebook and/or Instragram pages.