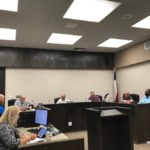 The Brownwood City Council on Tuesday morning approved naming the Mayes Park Pavilion the Nanda Wilbourn Family Pavilion.  Wilbourn, who passed away last year, was the longtime principal of East Elementary School.  Mayes Park is at 2700 Austin Avenue, adjacent to East Elementary.
"We started a process several years ago to name city facilities for people who had a lasting impact on our community," said Mayor Stephen Haynes.  "Following Nanda's death, I could think of no one who deserved more honor than she did.  She impacted so many lives in our community from our children to our teachers.  I think it will be a lasting tribute to her and her family," Haynes said.
The pavilion was built at Mayes Park which has a baseball backstop, soccer goals, skateboard area, a splash pad, picnic tables, benches, and restroom facilities.  This was an action item with the Parks & Recreation Advisory Board that met on August 5, 2020, and it was unanimously approved, with recommendation to the City Council to place it on the City Council Agenda for consideration.