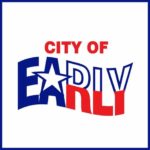 The Early City Council and Planning and Zoning Commission have called a special joint meeting at 5 p.m. Tuesday, Aug. 11 at the Early Visitors and Events Center at 419 Garmon Drive. The agenda is as follows:
A. Establish a quorum for each Board and Call to order
B. Invocation and Pledge of Allegiance
C. Presentation by Kendig Keast Collaborative on the progress of the Unified Development Code and response from local stakeholder listening sessions.
D. Adjourn / Recess
E. Consideration of the minutes for regular Council meeting held on July 28, 2020 and special called meeting on July 31, 2020.
F. Citizens Comments
G. Matters of New Business
1. Consider approval to enter into agreement with NexTraq for equipment and services. By: Tony Aaron
H. Executive Session in accordance with the provisions of Chapter 551, Texas Government Code.
I. Reconvene into Open Session and consider action, if any, on items discussed in executive session.
J. Administrator's Report
K. Budget Workshop
L. Announcements
M. Adjourn