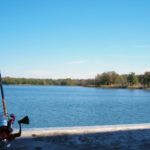 Brownwood
GOOD. Water clear; 87 degrees; 3.34 low. Largemouth bass are fair with deep diving crankbaits, jigs, Carolina rigged plastic worms in 12-25' near grass beds, drop-offs, and standing timber. White bass are good on slabs and jigging spoons near humps, ledges, and points in the main lake. Catfish have been good on prepared bait and live bait in 10-20'.
Cisco
FAIR. Water clear; 84 degrees; 4.48' low. Largemouth bass are fair finding brush piles on traditional and non-traditional lake locations on jigs, spinners, and jerk baits. Sunfish are good on cutworms mainly under docks and piers. Crappie are fair with jigs moving just a bit shallower but still in shady water. Catfish have been fair on stinkbait, chicken livers, and cut shad.
Coleman
FAIR. Slightly stained. 82 degrees. 1.47' low. Hybrid stripers remain good on rattle traps just following the leader of the baitfish for successful days. Largemouth bass remain fair on points and the occasional topwater near steep banks with vegetation, and points with glowing worms. Crappie are fair on jigs still around sun-protected spots. Catfish are fair with stinkbait and cut bait.
O.H. Ivie
GOOD. Water clear; 85 degrees; 11.11' low. Black bass are fair on spinners and worms and crankbait to cover water. Structures are good homes for bass, but they have been wandering further out from structure. Crappie are good on jigs. Catfish are good on stinkbait, live, and cut bait. White bass are fair deep below 18 feet.
*Texas Parks and Wildlife Department information as of Wednesday, Aug. 5.