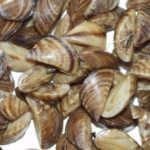 The Texas Parks and Wildlife Department (TPWD) has upgraded O.H. Ivie Reservoir in Coleman, Concho and Runnels counties to fully "infested" with invasive zebra mussels.
The status change is a result of recent sampling efforts that revealed new evidence of reproducing and growing populations of zebra mussels in Lake Ivie. Previously, individual zebra mussels had been found on separate occasions and the lakes were designated as "positive" for zebra mussels.
Zebra mussels were first discovered in O.H. Ivie Reservoir in March 2019 when four adult zebra mussels were found by the Colorado River Municipal Water District (CRMWD) in an above ground storage tank near San Angelo that is part of the lake's water transmission system.
In July, TPWD Inland Fisheries staff from San Angelo and Abilene surveyed the lake for evidence of settled adults and numerous zebra mussels were found throughout the reservoir, indicating a growing population.
Lynn Wright, the San Angelo Inland Fisheries District Supervisor, says "zebra mussels becoming established in O.H. Ivie is a big concern. O.H. Ivie Reservoir supports one of the best trophy largemouth bass fisheries in Texas, not to mention quality crappie, blue catfish and white bass populations.  Zebra mussels compete for food with other filter-feeding species such as shad that are important prey for these species.  Anglers travel from all over West Texas to fish O.H. Ivie and this increases the risk that zebra mussels could be spread to other reservoirs by boats. It's going to be very important for boaters to practice clean, drain, and dry when leaving O.H. Ivie, because we don't want zebra mussels to spread to other reservoirs in West Texas or elsewhere."