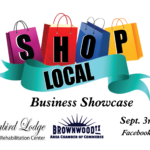 The Brownwood Area Chamber of Commerce is gearing up for the 2020 Virtual Business Expo. This year's theme is Shop Local. Two and a half weeks long, the Expo will begin Aug. 17 and run through Sept. 3. For this event, "vendors" are defined as participating businesses and "attendees/shoppers" are people moving from vendor to vendor.
August 17, Brownwoodchamber.org will host virtual "vendor" booths. On this day, "attendees/shoppers" should pick up goody bags at the Brownwood Chamber at 600 E. Depot Street. Goody bags will be filled with promotional items, vendor maps, and instructions. $500 grand prize winner will be pulled via Facebook drawing on Sept. 3.
Participating Businesses include: Abilene Regional Airport, AccelHealth, Aldersgate Enrichment Center, Alpha Omega Hospice, Andy's Pest Troopers, Brownwood Apartments I & II, Brownwood Funeral Home, Brownwood Housing Authority, Brownwood Regional Medical Center, Bruner Auto Group, Center for Life Resources, Clear Path Home Care, CMS Health Care Inc., Dazzling Divas, Elara Caring, Goodwill-West Texas, Hamiltons, Heart of Texas Children's Advocacy, Hendrick Health System, Honey Bee Natural Foods, Interim Healthcare Hospice, KANAR RV Sales, Kindred at Home Hospice, Kohler Company, McCluskey & Associates Real Estate, Personnel Services of Brownwood, Smile Doctors Braces, Songbird Lodge, The Chatfield Assisted Living, Weakley-Watson Ace Hardware, Workforce Solutions of West Central Texas, and Xtreme Jump Trampoline Park.
Businesses interested in participating should sign-up by Monday, Aug. 10. For more information, contact Kim Springfield at membership@brownwoodchamber.org or call (325) 646-9535.