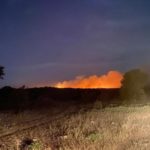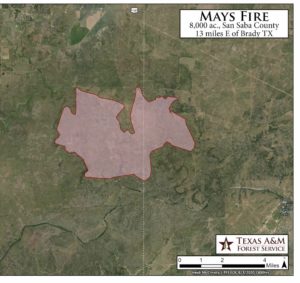 1:45 pm Update Monday – According to Texas A&M Forest Service Incident Command, the Mays Fire near the San Saba/McCulloch County line is estimated to be 8,000 acres and 20% contained.  Fire behavior is very active.  Ground crews are currently conducting a burn out operation to hold the fire at County Road 360.  Aviation resources continue to assist.
LEFT:  Mays Fire map shows the majority of the fire is in McCulloch County, 13 miles East of Brady, south of Highway 190, southeast of Rochelle.
(Previous story):  The Texas A&M Forest Service reported only 10% containment of the Mays Fire in San Saba and McCulloch counties.  As of Monday morning the fire had burned 3,000 acres.  According to the Brady Fire/EMS Department Monday morning, the fire was last reported to be on the San Saba/McCulloch County line 5 miles South of 190 E on the 4K ranch.  Crews worked throughout the night and will be out today working on trying to gain containment on the blaze.
(See our original story below.)
Area fire departments and Texas A&M Forest Service are trying to stop another major wildfire in Central Texas.
According to information from the Forest Service and Brady Fire Department, the Mays Fire started Sunday on Camp Billy Gibbons and spread to the 4K Ranch in McCulloch County.  As of Sunday night, the fire had grown to 2,000 acres with 0% containment.
(photo courtesy Brady Fire/EMS Department)