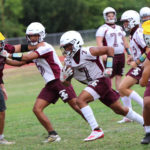 A 77-degree, overcast afternoon on the first Monday of August was a welcome sight for the Brownwood Lions football program, which held its first practices under the direction of third-year head coach Sammy Burnett.
Fall sports started their campaigns Monday, marking the first time athletic seasons have been given the green light since mid-March when the UIL shut down extracurricular activities due to the COVID-19 pandemic.
"What an outstanding day to be out here to start day one," Burnett said.
Wearing a gaiter mask, as all coaching staff members did during Monday's practice, Burnett and company found little issue with the new health safety guidelines being enforced by the UIL.
"Right now we're rocking and rolling, doing good," Burnett said.
The Lions worked for a little over on hour on defense, then offense in the initial workout.
"I think we're farther along than we have been just because of the fact that we got to do a lot during the summer so that's a plus," Burnett said. "We're farther along than we've ever been on day one. We see some mistakes but when you question them they're a lot farther advanced than we were before. Right now we're at a good point."
Among the brightest spots during practice, according to Burnett, was the performance of the senior class.
"The biggest positive has been the senior leadership and the kids are following their lead and they're doing what they're asked to do," Burnett said. "There's not a lot of coaches complaining and trying to get kids to do stuff, they do what they're asked."
Approximately 125 players reported to the first practice, but the varsity numbers are on the low end as of now. Brownwood returns just 15 of 36 lettermen, including four offensive and three defensive starters, from last year's 11-2 squad that reached the third round of the playoffs.
"One thing's that concerning is our numbers," Burnett said. "Right now we're looking, without sophomore help, at 27 on the varsity. That's due to the fact that we had a class that wasn't as strong, but we're going to work through that and make sure we find the numbers that we need to have enough people on the team that can go fill some spots."
Brownwood will don full pads for the first time during Friday's practice. Until then, Burnett wants to see the Lions excel at retention.
"I want to see every day an understanding of what we learned the day before, pick it up, retain it, and bring it to practice the next day," Burnett said. "Don't go home and forget it. That way when we put on the pads we can play fast and be physical."
The Lions are slated to host Godley on Thursday, Aug. 20 in their lone scrimmage, then travel to No. 3 Lampasas for the season opener on Friday, Aug. 28.