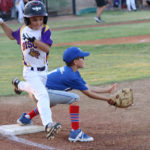 EARLY – The Buffalo Bison completed a flawless tournament run to the Texas Teen-Age Baseball 8U Machine Pitch state championship Thursday night with a 21-1 victory over the Coleman Bluecats at the Early City Park.
Coleman defeated the Comanche Pirates, 19-17, earlier Thursday to advance to the championship game. The Bluecats dropped their first outing in the tournament to Comanche, 13-6, but avenged the loss as part of a four-game win streak to a runner-up finish.
Meanwhile, Buffalo scored a total of 86 runs in its four tournament victories, averaging 21.5 runs per outing. The offense was again on display in the finale as the Bison recorded the maximum 21 runs allowed in their three trips to the plate, scoring 7 runs in each inning,
After holding Coleman scoreless in the top of the first inning, the Bison went to work in the bottom of the frame.
Zane Cheek led off with a solo home run to left field, the first of his two round-trippers during the contest. Drennan Sullivan and Tucker Loftin followed with base hits, then an RBI pop up by Kase Fulmer plated Sullivan. Another pop up by Freeman Payne landed safely to load the bases, and Hank Noey followed with a grand slam to push Buffalo's lead to 6-0. Moon McVeay then singled and scored the seventh run on an RBI triple down the first base line by Trant Wood.
Buffalo's seven-run second inning included a one-out homer from Cheek followed by a triple from Sullivan, an RBI single from Loftin, an RBI base hit by Payne, then a three-RBI hit from Noey, which was aided by a couple of errant throws. James Donaldson later drove in Noey with an RBI single for the last run of the inning.
The Bison tacked on seven more runs in the third as Cheek and Sullivan singled ahead of Loftin's three-run home run. Fulmer then reached on a base hit and was singled home by Noey. McVeay followed with an RBI triple that scored pinch-runner Asher Howell, Wood doubled home McVeay and Dillon Barzda chipped in a pinch-hit double. Nash Loftin then drove in Wood with the final run on an RBI infield single.
Coleman produced its only run in the top of the second inning as Hadden Edington led off with a single to right field. Rowdy Miller followed with a double to left field that moved Edington to third base. Then, with one out, Rhyder Fikes' RBI ground out to the pitcher scored Edington, who beat the throw from first base back to the plate.
In other TTAB State Tournament action Thursday:
* The Brownwood Pirates, the only Brown County team to reach Thursday action, suffered a 15-12 season-ending loss to the Belton Cardinals at the 12U Open Base state tournament in Franklin.
FINAL TTAB 8U MACHINE PITCH STATE TOURNAMENT BRACKET
(at Early City Park)
Game 1: Brownwood Tigers 21, Bangs Legends 5
Game 2: Buffalo Bison 24, May Tigers 4
Game 3: Early Red Sox 16, Brownwood Blue Jays 5
Game 4: Comanche Pirates 13, Coleman Bluecats 6
Game 5: May Tigers 12, Bangs Legends 10
Game 6: Coleman Bluecats 17, Brownwood Blue Jays 2
Game 7: Buffalo Bison 21, Brownwood Tigers 3
Game 8: Comanche Pirates 14, Early Red Sox 2
Game 9: Coleman Bluecats 13, Brownwood Tigers 11
Game 10: May Tigers 14, Early Red Sox 6
Game 11: Buffalo Bison 20, Comanche Pirates 3
Game 12: Coleman Bluecats 12, May Tigers 10
Game 13: Coleman Bluecats 19, Comanche Pirates 17
Game 14 (CHAMPIONSHIP GAME): Buffalo Bison 21, Coleman Bluecats 1