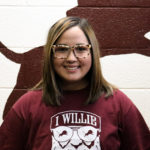 Editor's Note: This is the eighth in a series of nine stories highlighting the new members of the Brownwood coaching staff for the 2020-21 school year.
Ashley Gomez has fond memories of her senior year at Brownwood High School, and for good reason.
In 2016, Gomez was an all-district first-team second baseman on the Lady Lions softball team that advanced to state.
After an 0-3 start in District 6-4A action, the Lady Lions finished as the league runner-up and second playoff seed en route to the UIL Class 4A state tournament — just the second appearance in Austin for Brownwood and first in a 20-year span.
Gomez also posted a .366 batting average out of the leadoff spot with a pair of home runs, 20 RBI and 21 runs scored.
A recent Tarleton State University graduate, Gomez has returned to her alma mater where she will begin her teaching and coaching career at Brownwood Middle School.
"It feels so surreal," Gomez said. "I hadn't really pulled up to the school since I've been back and it took me a while to take it all in. It really does feel like a dream. I sat in my car for a little bit because it just felt so unreal. I'm so excited to be back to where it all started."
Recalling the trip to the state tournament, Gomez said, "That was actually a rough year. We didn't even think we were going to make it out of district. All those trials with those girls, just pushing through, it made me grow into the person I am today. That makes it that much more special coming back here."
Being back in Brownwood, especially as a coach, is a path in life Gomez didn't anticipate.
"I prayed a lot about it," Gomez said. "Coach (Heather) Hohertz reached out to me, I talked to my parents because they had always mentioned (coaching), but it just didn't feel right at the time. But I kept praying and God placed this in my heart and I'm happy this is where I ended up."
During her time at Tarleton, Gomez debated several career choices. However, it was her volunteer work with the Special Olympics that tipped the scales toward coaching.
"I didn't know that I wanted to coach or teach until the last few months of college," Gomez said. "I changed my major about four times, which is about average. Two years into college I volunteered a lot with special education through the Special Olympics. When I started volunteering with Special Olympics that's when I thought that I could see myself coaching. Then I got a job at (Stephenville) Faith school and that's when I decided I wanted to teach."
Gomez will have a hand in coaching all sports at the middle school level.
"The biggest thing for me, the reason why I think coaching and teaching is important, is remembering all the impacts that were made throughout my life by coaches, teachers and teammates," Gomez said. "That has made me the person I am today."
While the coaching aspect of the job excites Gomez, her greatest passion is special education.
"I'm excited about this opportunity and can't wait to see how this year plays out," Gomez said. "But I also plan on getting my master's in special education and pursuing a career as a special education teacher and seeing where God takes me."
As for the impact she hopes to have on her student-athletes, Gomez said, "I hope that I can inspire the kids to be the best versions of themselves. Middle school is such a tough time for kids because there is so much change, so much growth that the kids experience. And in athletics specifically, I think it's important that the kids find out who they are and find unity through a team structure with the support of their teammates and coaches."