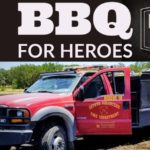 The first Heart of the Heartland BBQ for Heroes, benefiting the Early and Zephyr Volunteer Fire Departments, will take place from 11 a.m. to 3 p.m. Saturday, Aug. 1 at the Spirit of Texas Winery located at 6037 County Road 291 outside of Early.
Sliced brisket, sausage, beans, potato salad, and dessert with an extra helping of encouragement will be served.
Sponsors include Andy's Pest Troopers, Sweetwater Steel, Ranch Pro Real Estate, Gina Jameson, Ann Jones Realty, Auto Glass Magic, Stanley Dodge, Lydick-Hooks Roofing, United Supermarkets, Sonic, McAlister's Deli, Brookeshire's, Pate's Hardware, Texas Bank, Citizens National Bank, The Home Depot, Center Point Inspections, Taco Casa, Walmart, and Central Texas Farm Credit.
The event is presented by Heartland BBQ of Early, the Spirit of Texas Winery and ASAP Creative Arts.
For more information, call 325-455-3232.