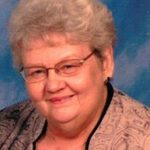 Carolyn Lowe, 72, of Brownwood, died July 13, 2020 at home.
The family will host a visitation from 6:00 p.m. to 7:00 p.m. Tuesday, July 28, at Stevens Funeral Home, 400 West Pecan Street, Coleman.
Graveside service will be at 10:00 a.m. Wednesday, July 29, at Greenleaf Cemetery, 2615 U.S. Highway 377 South, Brownwood.
Services are entrusted to Stevens Funeral Home, Coleman.   In accordance with the COVID-19 restrictions, masks are required to attend the visitation and graveside service.
She was born Carolyn Jan Markham on January 24, 1948 in Amarillo to Harold Cochran "Mark" Markham and Jean Evelyn LaRoe Markham.  She grew up in Happy, Texas and Hemet, California, graduating from Hemet Union High School in 1966.  She then attended Mt. San Jacinto Community College.  On March 6, 1971, she married Robert Franklin "Bob" Lowe in Hemet.  Carolyn worked at the Hemet Valley Medical Center as a switchboard operator for several years, before starting an in-home licensed day care and later selling Tupperware.  In 1980, Carolyn and Bob moved the family to Casa Grande, Arizona.  Carolyn worked as the office manager for Casa Grande Fence and Awning for a year.  She later worked for Legacy-McNatt Realty as a secretary and earned her real estate license.  In 1982, the family moved again, this time to Bethel, Alaska.  For the next nine years, Carolyn worked at Swanson's Grocery, starting out in the business office.  She saw the opportunity for promotion and moved to working in the Hardware department office.  A few years later, she was asked if she would like to manage the Lumber yard.  Carolyn took over the Lumber yard and managed it for nearly three years, exceeding sales predictions every year.  She became the manager of the Camera, Electronics and Toy Department for the next three years, still exceeding sales predictions every year.  The family moved to Brownwood in 1991, where Carolyn continued working in retail for several years.  She later went to work at Brownwood Regional Medical Center, first working as a switchboard operator and later worked as a collector in the claims department.  She retired in 2014.
Carolyn loved being around family and was always interested in knowing what has happening in their lives, a trait she inherited from her mother.  She was intrigued by family history and how to preserve it, creating several volumes of family trees.  She also loved designing homes.  She designed and had built a custom home that the family lived in in Winchester, California.  The most recent home design Carolyn did was when they had their home remodeled 11 years ago.  Carolyn was a member of Austin Avenue Church of Christ.
Survivors include her husband, Bob Lowe of Brownwood; one son, Robert Lowe and wife, Christy, of Coleman; two daughters, Nancy Barnhart and husband, Bradley, of Brownwood, Katherine Stephens of Santa Anna; and one brother, Jim Markham and wife, Joan, of Rockwall.  Also surviving are 11 grandchildren, nine great grandchildren, and several nieces, nephews and cousins.
She was preceded in death by her parents; her twin sister, Marolyn Buchanan; her baby sister, Pamela Skiles; daughter-in-law, Jeanna Lowe and stepfather, Dan Conger.
The family would like to thank Amber and Alyson and the staff of Coleman Home Heath and Hospice for the wonderful treatment and care that they gave these last several days.
Memorial donations in memory of Carolyn may be made to Coleman Home Health and Hospice, 406 West Elm Street, Coleman, Texas 76834.
Remembrances, condolences and kind words can be expressed to the family at www.livingmemorials.com.