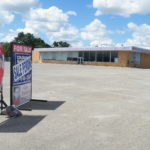 Brownwood News – The former Sav-On Food building at Austin and Coggin Avenues has been sold.  The buyer is DIL Petroleum of Trophy Club, Texas.  DIL Petroleum owns several Food Plaza stores in the area, including two in Brownwood, and one each in Bangs, Comanche, and Cross Plains.
Long-time residents of the area may remember the building as the JRB Grocery building in the 1960's and -70's.  JRB also had a store in the downtown area, which later hosted the Hastings store, and is now home to Pierce Furniture Gallery.  The Austin and Coggin building is just under 20,000 sq. ft., and has been vacant for over 20 years.
Plans are to remodel the building into a multi-use facility. The anchor will be a 4000-sq. ft. Food Plaza convenience store, complete with a large re-fueling facility in front, big enough to accommodate mid-size trucks, pick-ups with trailers, etc.  There will also be a 2000-sq. ft. liquor store, and 6,000 to 10,000 sq. ft. may be leased out for other types of businesses.  The side building, which hosts a donut shop and a Chinese restaurant, will remain, and will be remodeled to match the larger building.
Asbestos abatement will begin soon.  There is no estimated completion date as of yet.