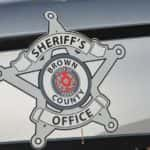 The Brown County Sheriff's Department recently responded to the following calls for service:
On Thursday, July 16, Deputy Mason Fabbiani was notified of a dark green, early 2000s model, Chevrolet pickup that was in the area of the fire located on County Road 264. The vehicle was spotted in the area at approximately the same time two fires started within several hours. A report has been made.
On Thursday, July 16 at 8:53 p.m. Deputy Simpson was stopped at Sandy Beach RV Park where a Criminal Trespass Warning was issued. A report was made.
Heidi McClain reported her son Patrick "Cutter" McClain missing and last seen Thursday morning, July 16, 2020 in Stephenville. He has not answered his cell phone. Family members are concerned about his welfare.
On Friday, July 17, deputies responded to FM 45 West. This was in regard to someone attempting to run over people and shots being fired. A report from was taken for Deadly Conduct, Assault Family Violence, and Criminal Mischief. Three people named as suspects.
On July 17, Deputy Toby Mathis responded to Beach Club Road for a report of criminal trespass. The call was in reference to two boats on a property that had been moved from where they were parked. The accused reported while on scene that the complainant had been on his property after being issued a Criminal Trespass Warning the previous night. Information was gathered and two reports were made.
On July 19, Deputy Toby Mathis responded to CR 588 for a report of possible criminal mischief. The complainant reported his mother's boat had wires moved. A report for criminal trespass was made.
On July 20, Deputy Toby Mathis, responded to the 6400 block of U.S. Highway 67 West. This was for a report of a vehicle stopped in the roadway. Mathis arrived and observed a tan Chevy pickup obstructing the highway. The driver admitted to consuming alcohol. A driving while intoxicated investigation showed the driver did not have the mental or physical abilities to safely operate a motor vehicle. The driver was placed in custody for DWI.