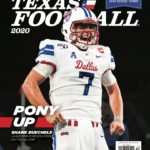 Coaches, players and fans are clinging to hope for the high school football season as COVID-19 numbers rise throughout the state. Siding with hopeful optimism, let's look ahead to the upcoming campaign and the projections for local teams.
Dave Campbell's Texas Football Magazine recently released its 61st edition of the publication, this year previewing more than 1,400 Texas high school football programs and offering its prognostications for how the current configuration of the season will pan out.
The Brownwood Lions are ranked No. 15 in Class 4A Division I by DCTF, but picked to place fourth in their next district – District 5, ranked the toughest in the state in 4A by the magazine.
Under third-year head coach Sammy Burnett, the Lions are coming off an 11-2 campaign and trip to the Region II semifinals. Brownwood welcomes No. 1 La Vega (14-2) and No. 11 Stephenville (6-5) back to its district, while new additions include No. 12 Midlothian Heritage (9-5), Alvarado (9-3) – which Brownwood ousted in the second round of the playoffs last year – and Waxahachie Life (7-4). Every team in the Lions' revamped district reached the playoffs in 2019 – with La Vega playing for the state championship – as league teams posted an overall record of 56-21.
In the Class 3A Division I ranks, the Early Longhorns – seeking their first postseason appearance since 2008 – begin their initial season of the Daniel Price head coaching era. The Longhorns (3-7) have landed in the revised District 3 and are projected to finish fifth in the league behind No. 5 Wall (12-1), Jim Ned (7-4), Clyde (7-4) and Breckenridge (1-9). San Angelo TLCA (1-9) is moving up to 3A Division I and is tabbed to placed sixth, as the top four teams advance to the postseason.
The Bangs Dragons a year ago made their first playoff appearance since 2014, and will look to return to the postseason in head coach Kyle Maxfield's third campaign. The Dragons (6-5) have moved to District 2-3A Division II this season and are expected to finish third behind No. 13 Ballinger (8-3) and Sonora (4-7). Brady (5-6) is anticipated to the round out the postseason qualifiers, while the rest of the league includes Ingram Tom Moore (3-7) and Grape Creek (1-9).
Dipping down to the Class A/six-man ranks, the May Tigers are ranked No. 7 in Division I and expected to capture the District 13 championship. The Tigers (10-2) are favored to finish ahead of UIL six-man newcomer Baird (8-2), Gorman (7-4), Lingleville (5-5) and Santa Anna (1-9).
Staying in Class A Division I, the Zephyr Bulldogs are tabbed to make a second straight trip to the playoffs with a runner-up projection in District 15. Zephyr (4-7) is picked to place behind No. 2 Jonesboro (12-2) and ahead of Evant (5-5) and Lometa (3-7) – the Bulldogs' district foes each of the last two seasons.
In Class A Division II, the Blanket Tigers and Brookesmith Mustangs are expected to continue their runs of 1-2 finishes in District 15. Blanket (9-3) and Brookesmith (9-2) have placed first and second in the same district in each of the last two seasons. The rest of the league includes Sidney (3-7), Rising Star (2-6) and Panther Creek (3-5).
On the outskirts of Brown County, the Comanche Indians are anticipated to place third in the new District 5-3A Division II. The Indians (5-6) are picked behind Eastland (9-2) and Jacksboro (8-4) and ahead of Dublin (8-3), Millsap (4-6) and Merkel (2-8).
District 4-2A Division I features No. 4 Cisco (11-2) as the favorite followed by No. 10 San Saba (13-1), Coleman (4-6), Winters (5-6), De Leon (4-8) and Goldthwaite (2-8).
Nine-time state champion Richland Springs (14-0), coming off its latest crown in 2019, is ranked No. 4 in Class A Division II and is the District 16 favorite over Rochelle (8-3), Cherokee (2-8), Mullin (1-9) and Lohn (0-4).
While some school districts around the state have pushed back the start of in-school instruction and athletics, preseason football practices for local schools are currently slated to begin Monday, Aug. 3, with season openers set for the weekend of Aug. 27-29.