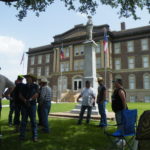 Brownwood News – A rumored protest at the Mills County Courthouse failed to materialize Saturday afternoon.
Information had been received that a group of Black Lives Matter members from Austin were planning to arrive in Goldthwaite around 2:00 p.m. to take down the Confederate States of America monument on the grounds of the courthouse.  A crowd of about 100 persons from Mills County and other nearby counties had gathered to defend the monument.  Prior to Saturday, volunteer armed guards had been on watch, in 4-hour shifts, around the clock for several days.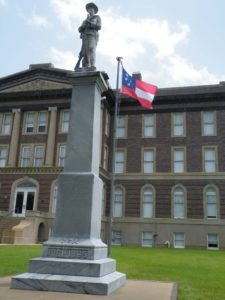 Just before the expected arrival of the protesters, Roy Johnson, a member of the Sons of Confederate Veterans, addressed the crowd.  He cautioned them to display no long guns, no signs, no flags.  Do not respond to insults.  "We want to be respectful and we want to be as calm in nature as possible… Our motive is to back up the Sons of Confederate Veterans that have been here, and this community, that display that monument.  If that monument has to come down for whatever reason, it needs to go through the legal process."  He additionally cautioned the crowd not to physically touch the protesters in any way, and do not voice any aspersions.  "The only time we get involved physically, is if law enforcement gets overrun.  If you see a law enforcement officer in trouble, you help that officer immediately.  But let them do their job."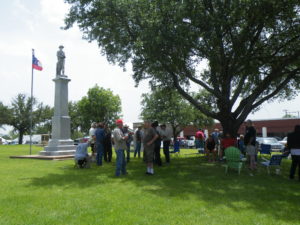 Rusty Humphries of the Sons of Confederate Veterans spoke with Brownwoodnews.com:  "They are saying that there are some groups of protesters, representatives of Black Lives Matter, coming to protest the monuments here on the courthouse square.  We are here to show support of them (law enforcement) and of our community.  We've had people patrolling 24/7 since early this week, they've just been members of the community and concerned citizens, really stepping up and showing support for the community."
When asked if SCV planned a peaceful defense of the monuments, Humphries said "Yes, 100%. We don't want any violence, we don't want anything to get aggressive, hostile, or anything like that.  We are supposed to have law enforcement here, and we are just here solely to defend those monuments, stand up for them, and our community, and support law enforcement."
All the concerns were for naught, as no protesters showed up by 4:00 p.m., by which time the crowd of defenders had dwindled to about 50.  The sheriff's department had only two officers on the courthouse grounds, along with a police dog, but other law enforcement vehicles were parked nearby, and were circling the courthouse square.  Reports were that additional officers with tactical gear were on duty at the sheriff's department, if needed.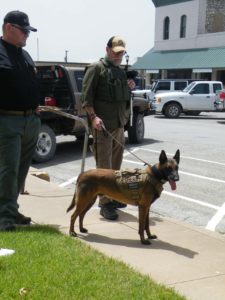 The only protesters at all were three young ladies from Mills County who stood on the back corner of the courthouse square, holding signs to the passing traffic.  While they would not identify themselves to us, one of the ladies commented "I'm not here to protest the monument.  I'm just here to make a statement that black lives matter.  I know there's a lot of racism that goes on and I want the racism to stop.  I want the hate to end."