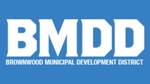 Brownwood News – At the June 16 meeting of the Brownwood Municipal Development District, the Board of Directors approved a grant program for local businesses.  The grants are available for sales-tax producing businesses that had to spend extra money to adapt to the COVID-19 pandemic.  Examples of qualifying expenditures are new equipment, extra phone lines, new software, safety equipment, hand sanitizer, supplies, etc.  The Board authorized up to $2500 per business, proof of expenditure required, and a maximum of $50,000 for the program.  The grant program must first be ratified by the Brownwood City Council before it can be implemented.
BMDD Executive Director Ray Tipton reported that sales tax collections for Brownwood in April were up 8.77%.  This was a pleasant surprise, as the strictest COVID restrictions were in place in April, and a decrease was expected.  Tipton said that many Texas cities did experience a decrease.  Major cities were down 17-33%, cities that rely on tourism or the petroleum industry were down 20-30%, and even Stephenville, which is heavily reliant on Tarleton State University, had a decrease.  Tipton described this as an unplanned laboratory experiment in what would happen if everybody shopped at home.  The increase in sales tax revenues for the City in such a situation would provide more money for streets, parks, Fire and Police Departments, etc.
On the bad news side, Tipton reported that the unemployment rate for Brown County in April was 10.1%.  That number was artificially high, however, as the state included certain categories of unemployed persons due to the COVID pandemic, who are not normally counted.  Examples are persons on temporary furlough, self-employed persons, contractors, etc.  Tipton said he expects our unemployment numbers to get back to normal in a few months.
Tipton reported that construction is well underway on the new Chick-Fil-A Restaurant on East Commerce.  The site has been excavated, unacceptable dirt and wood residue is being screened out, and utilities are being brought in.  Chick-Fil-A is expected to open in late October.
The new Hendrick Medical Clinic on East Commerce will have a groundbreaking on June 22.
In other actions taken by the BMDD Board:
***  Approval was given for up to $65,000 for upgrades and renovations to Lednicky Park on East Commerce.  This is the rest stop adjacent to the new Chick-Fil-A, where Skillets previously was located.  Included in the renovations will be playground equipment, picnic tables, lighting, and a new wrought-iron fence.
***  The Board authorized Tipton to seek bids for the demolition of the old ice house building, and the old Timmins metal warehouse building, on Washington Street.  This is in the area of a proposed annex to the Brownwood Coliseum, to be used as a convention and events center.  Previous estimates from a few years ago were around $120,000.
***  Approved up to $60,000 for new shade structures for Coursey Park, on Center Ave.
***  Approved a Building Improvement Incentive Program Grant of $19,300 for The Turtle Restaurant.  This program is a 50% match.
All of the above actions for the expenditure of BMDD monies are subject to approval by the Brownwood City Council.