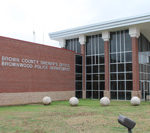 Brownwood News – The Brown County Sheriff's Department has responded to the following calls in recent days.
On June 1, at 11:44 hours, Deputy Jayson Bastardo was dispatched to N. 279.  This was in regards to a criminal trespass warning.  Deputy made contact with a lady who requested a Criminal Trespass Warning be issued to a man.  The man was served a trespass warning.  A report was taken.
On June 5, Deputy Toby Mathis responded to a report of a burglary of a habitation.  A man reported his camper was broken into and several items were taken, including two firearms.  Information was gathered and a report made.
On June 6, Deputy Andre Smoot responded to a call of theft of electricity.  While on scene Deputy Smoot discovered a neighbor had plugged an extension cord into an outside wall socket not belonging to them.  Photographs were taken and a report completed for further investigation.
On June 7, a report was taken for an assault with no injury which occurred on Peninsula Drive.
On June 7, Deputy Toby Mathis, along with Sgt. Taylor Fletcher, responded to a North 183 RV Park for a report of a male and female yelling at each other.  The man was observed with blood on him from a laceration on his arm.  The woman was placed in custody for Aggravated Assault with Deadly Weapon Family Violence.
On Wednesday, June 3, at approximately 11:00 am, Deputy Scotty Burke met with a complainant on CR 475 in reference to the condition that the property is currently in.