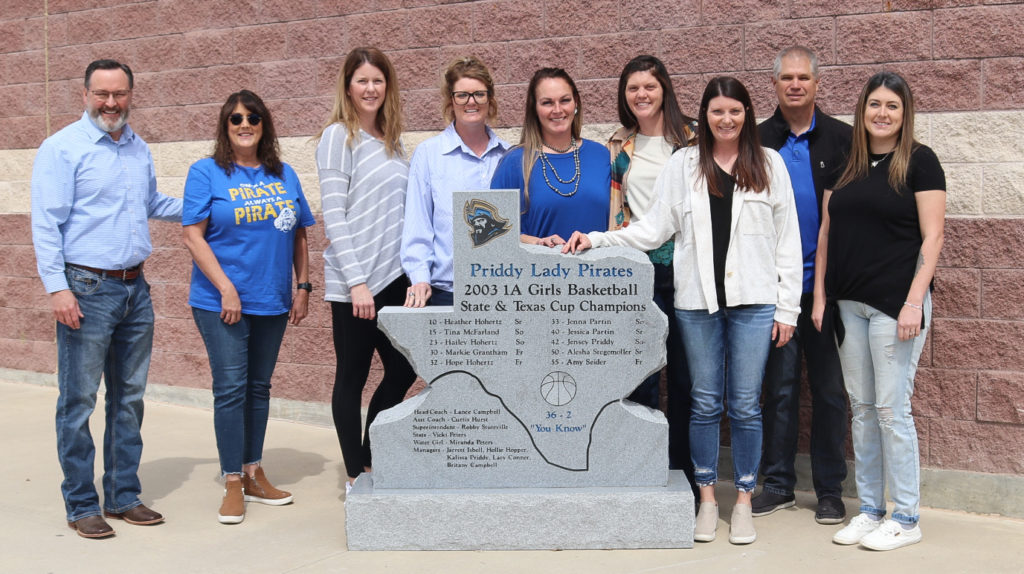 PRIDDY — The 2002-03 UIL Class A Texas Cup girls basketball champion and Class A Division II girls state champion Priddy Lady Pirates on Saturday were immortalized on the 20th anniversary of their achievement as a monument celebrating the historic season was unveiled at Priddy ISD.
Priddy defeated a previously unbeaten Hedley squad, 57-54, in the Division II final then knocked off Division I champion La Rue La Poynor, 66-63, to earn the distinction of the best Class A girls basketball program in Texas for 2002-03.
Head coach Lance Campbell and assistant coach Curtis Hurst guided the Lady Pirates to a 36-2 overall record.
Campbell said during the unveiling, "This community is special and when my family and I moved here I didn't know how special it was. This was an eight-year process. This wasn't something I lucked into, the girls worked their tails off for eight years. The thing I'm most proud of is I was fortunate enough to work with young ladies who wanted it as bad as I did and were willing to pay the price to win a state championship. People ask what's it like to win a state championship and I tell them it 30 miles a week during cross country, endless hours in the gym when you don't have to be there, it's about work it's not about fun. These girls were willing to put in the work and I was blessed to be a part of that and I thank you girls for that. It's not that way everywhere. Since I've left here I've seen it more and more. I got spoiled here. You don't see parents that are OK with their kids working hard. This is a special place."
Senior 6-1 forward Alesha Stegemoller was named the MVP of the Division II championship game while senior 5-6 guard Heather Hohertz was selected to the all-state tournament team. Other team members included sophomore Tina McFarland, sophomore Hailey Hohertz, freshman Markie Grantham, freshman Hope Hohertz, sophomore Jenna Partin, senior Jessica Partin, sophomore Jensey Priddy, and freshman Amy Seider.
Against Hedley, Priddy led 15-13 after one quarter, trailed 31-30 at halftime, and surged in front 44-42 through three periods. Stegemoller scored 25 points followed by Hope Hohertz with 11, Hailey Hohertz with 10, Heather Hohertz with 7, and Jessica Partin and Jenna Partin with 2 points each.
Alesha Stegemoller Borsellino said, "Having your kids here 20 years later and letting them see what you were able to accomplish really means a lot. We dreamed about this since we were kids, me and Heather and her sisters, who were like my sisters. It really means a lot to be able to come back and see everybody and see their kids and see what the future looks like. The statue is great, but the best part is seeing everybody and being back together."
Versus La Poynor, the Lady Pirates jumped in front 18-12 after one quarter, fell behind 36-33 at halftime, and faced a 49-43 deficit heading into the fourth period, where Priddy owned a 23-14 scoring edge to rally for the victory. Stegemoller again led the way with a double-double of 28 points and 20 rebounds followed by Jessica Partin with 12 points, Heather Hohertz and Hope Hohertz with 11 points apiece, and Hailey Hohertz and Jenna Partin with 2 points each.
Heather Hohertz-Perez, who has served as head coach of the Brownwood Lady Lions basketball program for 14 seasons, said, "I'm so happy we were able to do this. It's something we've wanted to do a long time, the monument, and I'm thankful and grateful to be able to get it done with all the sponsors who were able to pitch in. This is a dream we set out to accomplish in the second grade, me, my two sisters, my cousin and my friend Alesha who is two days older than I am. Looking back 20 years later, most kids don't get to experience this and all the hard work you have to put in. We were fortunate enough to say we won our last basketball game and not a lot of schools and players are able to say that. It's truly special and if you look into the record books a lot of us still hold some of the 1A records to this day. It was just a special group that was able to accomplish something great."
Those who sponsored the monument include Triple H Auto & Towing; Kevin & Sharron Hohertz; Carlisle Heavy Equipment Contractor; Stuart & Vicki Peters; MC Bank; Richard & Heather Perez; Jason & Patty Partin; Memory of Kenneth Stegemoller; Service Feed Mill; Mildred, Wesley and Dena Peters; Kathy Isbell & Family; Jeremy & Hailey Smith; Brandon & Hope Doremus; Craig & Mindy Hopper; Dick & Joann Vestal – Teachers '51 – '61.