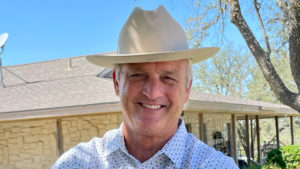 If you ever need an 18-wheeler paralleled parked, I'm your guy. I spent the last five weeks attending Roadmaster Truck Drivers School in San Antonio. As of this past Tuesday, I can legally drive the big rigs.
Being a truck driver is something I have always wanted to do. My childhood friend, T.J. Beaton, and I would sit on a retainer wall along the interstate in Birmingham, Alabama and watch the trucks roll by.
We'd pump our arms up and down trying to get the drivers to blow their air horn, and we'd talk about seeing America together through the windshield of an 18-wheeler.
Growing up in the 70's, songs, and movies about trucking were plentiful, and talking on the CB radio was as cool as one could get. What was your handle? Some of you know what I'm talking about, and if you can remember Red Sovine, then "come on back and talk to Teddy Bear."
Who could forget the "Bandit" and the "Snowman" bootlegging four hundred cases of beer in an 18-wheeler from Texarkana to Atlanta, out foxing Sherrif Buford T. Justice along the way. If you haven't watched Smokey and the Bandit, then you are missing out on a piece of cinematic magic. Don't even get me started on Bandit's black Pontiac Firebird Trans Am
What impressed me the most about this truck driving school was the passion and purpose all the instructors had. I knew nothing about the trucking industry, or how to manage 18-wheels of thunder, but I learned. Without question I was intimidated when I got behind the steering wheel, but thanks to their knowledge and support, my confidence grew.
Learning a new skill at 60 is taxing, but I felt like I was playing baseball again. The challenge was real, as were the butterflies dancing around in my stomach before my final evaluation.
I am not sure what type of work or family environment you are in, but when you are surrounded by people who are selflessly trying to make you successful, then failure is not an option.
In my class were two young fathers and a single mother who happened to be the best driver in the school. If you don't believe me, all you have to do is ask her, she'll tell you so. I've seldom met anyone so confident in their abilities to get the job done. She can park an 18-wheeler inside a walk-in closet, I admire her confidence.
There was no lack of encouragement from others, and we all pitched in when a classmate was struggling. It was truly a shared experience, and success always taste better when you share it with others.
I was reminded of what you are trying to achieve in life is not nearly as important as those helping you along the way. I did not do it alone, none of us did. It was a team effort to get each one of us across the goal line. We were teammates in the truest sense of the word.
We all have different goals and dreams in life, it just so happens that many of us plan to drive an 18 – wheeler to get there.
I'll say it again, never stop trying to be the person you want to be. How you get there only has to make sense to you.
So, here's to you Alex, Josette, and Fabian, we did it! We showed up as strangers and left as professional truck drivers, but more importantly, we left as lifelong friends.
Both of those are pretty cool.
Keep on Truckin!
***
Todd Howey is a columnist for BrownwoodNews.com whose articles appear on Fridays. Email comments to [email protected].