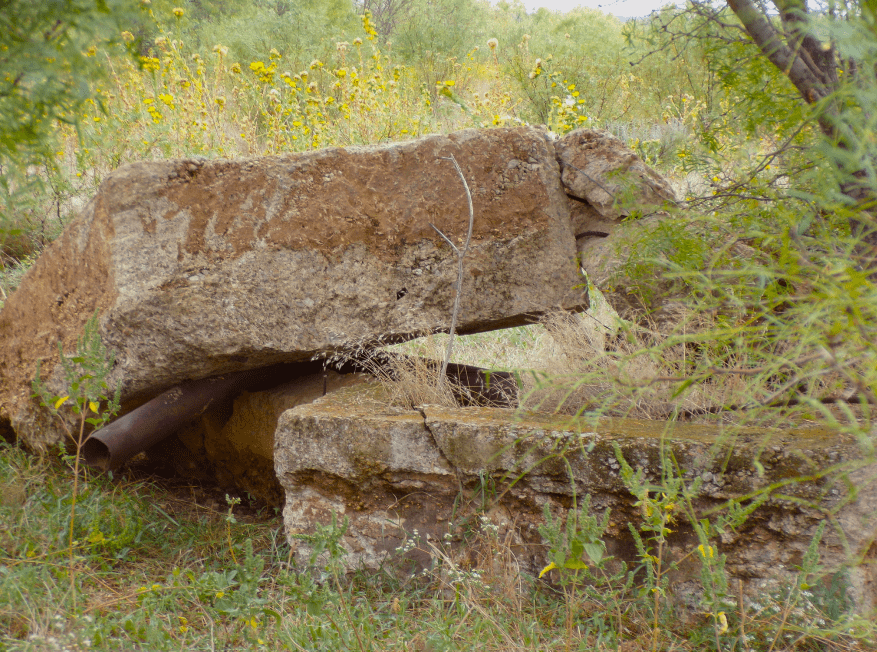 There is a lost town nearby, a place where broken sidewalks lead to nowhere, and the crumbling foundations of buildings that once housed hundreds of workers lie empty in a barren field. Rusted oil pipes snake randomly out of the brush along a barely traveled back road–this is pretty much all that remains of the once bustling boomtown of Fry.
In 1926, a rich oil deposit that would cause the town of Fry to grow overnight was discovered in Brown County, off FM 585, near the Coleman line. The site belonged largely to the J. H. Fry family, and was leased by a group of speculators. The town of Fry sprang up just west of the oilfield. A year after the discovery there was a post office, several stores and a scattering of houses.
Alene Tucker Drinkard detailed the development and eventual abandonment of Fry in an article published on browncountyhistory.org. "James II. Day, a Brown County native and a Professor of English at the University of Texas at El Paso, described what happened. 'The new National rig was drilling at 1,276 feet when it encountered a new strata of sand. Six more inches and the hole began to fill with oil. As it was being bailed out, three hundred and fifty feet of the open hole caved in; then, the crude shot to the surface, was geysered high into the air, and settled into a flow. It 'made a head', so the reports stated, and when it did, some of it landed on the rig's boiler. Immediately, all was ablaze at the well, and, although the fire was extinguished, the new National rig was destroyed.' And so, the great but short-lived Fry Oil Boom began," Drinkard wrote.
"Oil scouts leased other acreage in the vicinity. The Fry, Pugh, Shore and Lowe families were its main producers. Cow pastures and fields were turned into an oilfield where 3,000 people worked, in shifts, day and night. Will and Jenny Pugh are my grandparents on my Mother's side of the family. Although I was born after oil was discovered on their land, I remember my family talking about how their life changed. Before the oil was discovered, they had barely enough money to buy food. Then, all of a sudden, they had enough money to buy anything they wanted to buy," Drinkard related.
The production of oil and gas from Fry Field was so great during its heyday that several gasoline production facilities were installed on the field. Transporting the oil was a problem that was solved by the construction of a pipeline that ran up to Cross Cut, connecting with the railroad at Bangs as well. One oil company built a facility south of Jim Ned Creek that could process 26,000 gallons a day.
"The tax from the Fry Oil Field helped to build a new building for Buffalo School, just over the Brown County line in Coleman County. I attended Buffalo School all my school years except my senior year, which I spent at Early High School. Even now when we meet for the Buffalo School Reunion, the children whose parents worked for the Amerada Plant, call themselves "the Camp Kids", with a certain amount of pride. Because of the unrestrained drilling and production the Fry Oil Field subsided almost as quickly as it began. By 1934, only eight years after the discovery, the annual production had declined so greatly that it equaled only one month in 1927," Drinkard recorded. As the oil field petered out, the town did as well. By 1964, no residents remained.
Here today and gone tomorrow, Fry was a classic American boomtown. From a fast turnover of mostly itinerant workers, along with some locals, Fry had a population of 200 in 1927. Quite a few buildings were once here, including the stores, a church and some homes.
Standing on the spot where nothing really remains of a once thriving town, I have this deep sense of fascination with the whole thing. There's not much to see here but some rusted iron and bits of concrete, but there is a feeling of nostalgia for what was once a thriving community that has disappeared so completely. Mixed with that feeling is also a spark of cheerfulness, as if the land remembers those people whose lives went from rags to riches in a matter of a few short months, and smiles about it.
The old Mud Creek Cemetery, which was here before Fry came to be, is the only thing still here now. This cemetery holds the remains of some of the citizens of the town of Fry. A road through what was the center of town is very quiet. There is only the sound of the wind in the grass and trees, a lone hawk overhead, its call sounding unusually loud through the empty fields.
***
Diane Adams is a local journalist whose columns appear Thursdays on BrownwoodNews.com