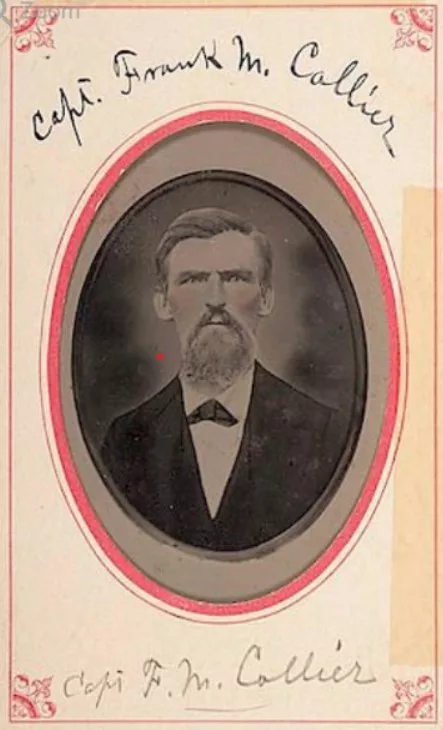 About 4 miles to the northwest of Brookesmith, a frontier post called Camp Collier was once located. Camp Collier was part of a group of 18 frontier fortifications commissioned by the Texas Legislature in 1861 to protect settlements from Comanche and Kiowa raids. The outposts ran along a line from the Red River to the Rio Grande. Operational by March 1862, the camp was, like most frontier outposts during the Civil War, desperately shorthanded. It was manned mainly by local residents and overseen by Captain Frank M Collier, for whom it was named. Collier was also in charge of Camp Pecan, another of the commissioned fortifications that was located in Callahan County. Due to a back injury, he was forced to resign his commission in July 1862, and was replaced by Captain James Callan.
A regimental headquarters for the Frontier Regiment from June 1862 to October of the same year, Camp Collier was later merged with Camp Pecan to form Camp Colorado, which then became the regimental headquarters. Despite its short career as a military outpost, Camp Collier saw plenty of action.
According to a story in Early Days of Central Texas," by FM Cross, James Carmean and James Tankersley, two neighbors from Comanche County, were ambushed by a group of about 16 Comanches while en route home from selling a large supply of bacon at Camp Collier. The article states the incident took place in the fall of 1863, but their deaths are recorded in a cemetery list as August 1862. After selling the bacon, the two men stayed two nights at Collier, and were ambushed 6 miles out of the camp while on their way home.
"The men turned back and tried to make a run for our camp. Tankersley was a large man and was riding a horse that was lame. Carmean could undoubtedly have made his escape, but he was too brave a man to leave his friend, so he held back, and they fought the Indians for about a mile," Cross states. "They were coming right back on the road to the camp. Close to the roadside was a big tree and by this they stopped. Tankersley having been wounded in both legs "Carmean got behind this tree with his rifle and stood the In­dians off while his companion crawled off his horse and dragged himself to a small thicket nearby. It was evident that Tankersley died first, having received fatal wounds while on his horse."
"We found the bodies of these men only a short time after they were killed, for two of our boys…had been out horse hunting and came on them while their wounds were still bleeding. The Indians were still around and immediately gave chase. Being mounted on good horses, however, the boys soon ran off from them. We took the bodies of Tankersley and Carmean and buried them in the same grave. The two men were neighbors, they died side by side and are sleeping side by side at the old Camp Collier, near Brookesmith."
James C White, in his book on Brown County history entitled The Promised Land, writes that Camp Collier was under the command of early frontiersman Brooks W Lee, who owned the section of land where the camp was located. A historical marker for Camp Collier is located on the grounds of the Brownwood courthouse that reads in part: "An important source of supply and gateway to foreign trade thru Mexico, Texas was the storehouse of the South. Camp Collier and other posts on this line were backed by patrols of State Rangers organized militia, and citizens' posses scouting from nearby "family forts." This was part of a 2000 mile frontier and coastline successfully defended by Texans."
Nothing remains of old Camp Collier. The historical marker in Brownwood states it was located 13 miles southwest of the courthouse. I believe the exact site of the camp is on private property. Probably about as close as you can get to where it was is somewhere in the vicinity of the convergence of County Road 203 and County Road 202. The camp was maybe about half a mile east of Brooks Lee Cemetery, where Brooks Lee, along with Carmean and Tankersley are buried. The cemetery is also on private land.
It's hard to believe, driving along the quiet back roads outside of Brooksmith, that this country was once something like a warzone, with the shouts of soldiers in hot pursuit of the raiders, and the spine tingling war whoops of the Comanche echoing over the rolling hills.
***
Diane Adams is a local journalist whose columns and articles appear periodically on BrownwoodNews.com