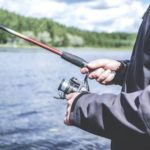 The following fishing reports are provided by the Texas Parks and Wildlife Department for the week of May 10:
LAKE BROWNWOOD
GOOD. Water slightly stained; 69-72 degrees; 8.24 feet below pool. Black bass to five pounds are good on glide baits, jigs, crankbaits and shaky heads in 4-18 feet of water . The bass are in post spawn and following the shad spawn. Crappie are good around the lake on jigs in 8-14 feet of water and on minnows around the docks. White bass are good to 1.5 pounds scattered around the lake and in the lights or crankbaits or jigs and minnows. Catfish are good to 15 pounds on cut gizzard shad near the flats using jugs.
LAKE CISCO
GOOD. Water normal stain; 70 degrees; 8.87 feet below pool. Fishing is good in 6-10 feet of water. Catfish are great on perch. Crappie are great on minnows. Carp are good on worms. Report by Jason Miller, Lake Cisco Rentals.
LAKE COLEMAN
SLOW. Slightly stained; 66 degrees; 5.91 feet below pool. Bass are good shallow on soft plastics, with the topwater water bite starting early in the morning.
LAKE O.H. IVIE
GOOD. Water stained; 71 degrees; 25.17 feet below pool. Largemouth bass are good using soft plastics. White bass are fair with live bait and crankbaits. Crappie good using minnows. Catfish are good on live bait. Report by Concho Park and Marina.
LAKE PROCTOR
SLOW. Water stained; 72 degrees; 10.08 feet below pool. Catfish are good on cut bait in deeper areas, when you can find them. Report by Jeffery Sojourner, Sojourner Fishing LLC.