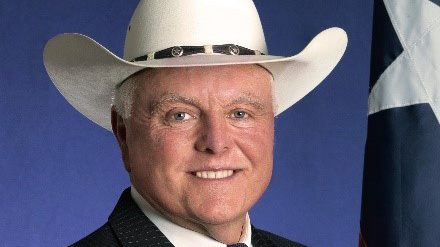 Sid Miller was introduced by the Pecan Valley Republican Women's Club. Sid Miller has been our Texas Agriculture Commissioner for two four year terms and has broad authority over food, drugs, commercial products, and the like.
Miller spoke about his origins. He is from Comanche country, and a graduate of Tarleton State University with a degree in vocational agriculture. He was an ag teacher for 5 years in Gustine and there he learned, in his words, "Our greatest natural resource we have here in the state of Texas is not oil and gas, it's our youth," said Miller.
"And we put a big emphasis on that at the Texas department of agriculture because the average age of the Texas farmer and rancher is 59 ½ and only 2% of us live on those farms and ranches and feed the rest of us so we've got to have these younger people coming along and so we work really hard to bring those people into agriculture," says Miller.
Miller talked about how Texas leads the nation in agriculture, in all forms: cotton, cattle, wool, horses, sheep, pecans, and so on.
He spoke on several categories that he runs, such as the Consumer Protection Agency, pesticides, weights, and measures for all commerce in the state, and corrupt convenient store practices involving card readers and dumping of cheap fuel. Miller stated that they even inspect ping pong balls for the Texas Lottery.
Miller has worked heavily for school nutrition reform. Every day he is responsible for 5 million school meals. Miller talked about how he repealed many of the federal and state mandates. Miller focused on putting local products into public schools and set up a system called MEGACon where they bring in schools and farmers to build relationships with each other.
Miller said he was able to get 65% of schools to start voluntarily buying 65 million dollars of local products to serve kids. Miller also focused on reformulated lunchrooms to have multiple options and to allow parents to bring desserts when that was mandated against. During Covid they had to figure out how to feed kids at home and Miller talked about how the TDA implemented box lunch programs which would be a weeks' worth of food and the Hemp program.
Miller then moved to rural healthcare. According to Miller, the TDA draws down federal dollars and tries to recruit doctors and nurses and pharmacists. He talked about how Covid was very hard on rural healthcare during Covid, and rural hospitals almost went bankrupt. Miller worked with the office of emergency management, brought in masks and gowns, got Go Texan partners in distilled spirits to make hand sanitizer, and sent trucks to distribute it to rural hospitals. They were able to keep rural hospitals afloat during Covid.
Miller discussed what being Ag. The Commissioner has allowed him to do. One initiative Miller took during Covid was trying to make every business in agriculture, related to agriculture, or supported agriculture, to be an essential business.
Miller then discussed his Go Texan program. Miller started a national and global outreach initiative that was able to get the label on every continent on the globe. When the tariff war against China was happening, 49 states had exports go down, but Texas' went up. Later in his speech Miller discussed their livestock export facilities that ship to Mexico, South and Latin America, and Southeast Asia to give them better livestock genetics
Another thing that Miller is trying to get done is having beef and pork labeled on country of origin. Everything that comes into this country must have a sticker on it that says what country it comes from, except beef and pork. Companies can label it a product of the USA even if it is not. That is something he wants to change.
One of Millers' bigger projects that he plans to go forth with this coming legislative session is to prevent the Chinese Communist Party from buying up Texas lands. Miller notes that 8 states outlaw it and 37 have restrictions. But Texas has nothing. Miller brought up one example of a former Chinese officer buying 140,000 acres next to Laughlin Airforce Base in Del Rio along with a 15,000 acre wind farm on it. Miller has worked with the legislature to stop China from putting up a wind farm along with Russia, Iraq, and North Korea. They can't put wind farms in Texas.
Miller then talked about how he was going to be in Trump's cabinet as Secretary of Agriculture if Trump gained the presidency in 2020. He was interviewed the first time when Trump ran in 2016, but someone else was picked. Then, as changes were being made to the president's cabinet in 2020, Miller was selected to be interviewed for the new Secretary of Agriculture prior to the 2020 election which he passed.
On the Texas midterm elections, Miller says it is going to be a very competitive election for several reasons. Miller explained that Beto O Rourke will be a formidable opponent that Governor Abbott has never really had before while running for Governor. Miller also said that the power grid failure in February 2021, and Uvalde, will not be in the Governor's favor.
Miller says that Abbott is riding the ship and doing good, and shipping migrants across the nation, something polls show that Texas have been finding favorably, has been helping his campaign. Miller was honest to the Pecan Valley Republican Women's club by stating that Dan Patrick and Ken Paxton are in trouble, and Glen Hager and other elected officials are in tough elections. Miller says that the Republicans cannot just do good in rural Texas. They must win by at least 75% in rural areas to offset those big metropolitan areas.
After this a Q/A was conducted. They asked Miller his opinion on Abbott declaring an invasion for the whole state, in response to the border crisis. Miller was asked if he would ever run for Governor, but he said there are things he believes he needs to finish at the TDA.
Miller was asked how much oil and gas rights and lands that the Chinese own in Texas. Miller did not know the exact number.
Miller was asked about a potential food shortage coming to America and how much the war in Ukraine is affecting wheat, and contaminated food items. Miller was able to give clarity to the crowd and give explanations for all their questions, and things that they should not be worried about.
At the end of the event, Miller left the crowd with one statement, "every day for the rest of your life, three times a day, you're going to need a farmer."
[Story by Jacob Lehrer]