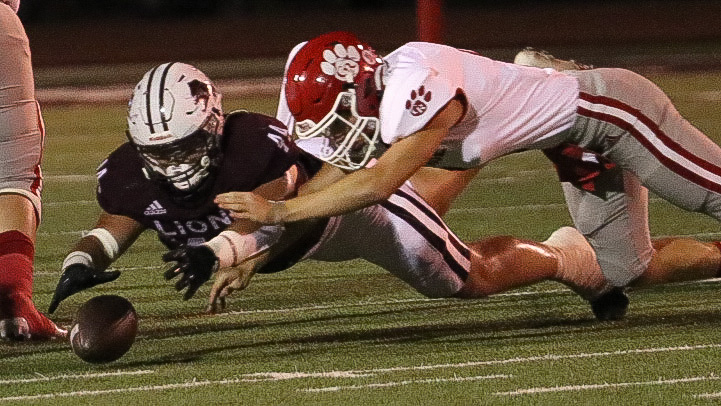 After collecting their first victory at Gordon Wood Stadium this season this past Friday, the Harris Ratings Class 4A Division I No. 9 Brownwood Lions are back on the road – part of a stretch of four road games in five weeks – to tangle with the 4A Division II No. 10 Waco Connally Cadets.
Brownwood (3-1) carries a three-game win streak into the 7:30 p.m. Friday contest following last week's triumph over 4A Division II No. 9 Glen Rose, while Connally (3-1) had its season-opening three-game win streak snapped in a 51-21 loss to 4A Division I No. 2 China Spring. The Cadets own wins over Mexia (65-20), Waco La Vega (35-34) and Cameron Yoe (45-40).
Lions fifth-year head coach Sammy Burnett stated Wednesday that Bally's Sports Southwest has selected the Brownwood-Connally match-up as its Class 4A statewide game of the week.
"We're two worthy opponents, athletic teams that have been doing well," Burnett said. "I feel it's an opportunity for us to prove that we have been working hard and we do deserve the respect that is given to our kids. There's no pressure on us, it just tests your faith. Go out and do the work, be consistent at what you do, trust your brothers and coaches and do the little things and don't try and take control of the situation yourself, do your part for the team's success and play with great passion and great heart. It's going to be a fun night."

In Connally's 30-point loss last week, Burnett said the final score was not indicative of the contest as a few uncharacteristic Cadet miscues in the second half allowed China Spring to pull away.
"It was a 10-7 ballgame at the half," Burnett said. "China Spring was gifted a kickoff to start the game, Connally didn't recover it. Connally had a snap over the punter's head that went into the end zone for a touchdown, and they had another snap that went over the punter's head that they recovered at the 1 yard line. Not taking anything away from China Spring, but they were gifted a lot of points that game. Take those mistakes away, and that's probably a knockdown, drag out."
The Lions ran into a Glen Rose squad without its starting quarterback last week, and Connally may be in the same situation this week as Jelanie McDonald – an Oklahoma State commit – sat out the China Spring game after suffering a lower leg injury in the victory over Cameron Yoe. The Cadets still have plenty of weapons, however, such as running back Kiefer Sibley who has rushed for 637 yards – averaging 10.4 yards per carry and 159 yards per game – with nine touchdowns, while also tossing a 55-yard touchdown pass in his only attempt this season.
Other weapons for Connally – which averages 41 points and 393 yards per game, with 328 coming on the ground – include Kobie Black (5-141, 3 TDs receiving), Ke'Are Riley (2-61, TD receiving), Jylon Nobels (146 yards, TD rushing; 2-38 receiving), and backup quarterback Jarrett Shepard (6 of 11 for 82 yards passing).
"They have some injuries like we do," Burnett said. "I know their quarterback is in a boot and he may play and he may not, but Connally has great athletes on both sides of the ball, four-star and five-star athletes that are committed to big-time schools. They scare you in all phases. They return kickoffs for touchdowns, and they have a running back that's really good. They're big up front with their offensive line. They like to run the football, but the quarterback that played against China Spring probably throws the ball better than the starting quarterback. The starter is an outstanding athlete that does a great job running the ball and when he starts to run coverages tend to break down and he can throw the deep ball like he did against La Vega."
While Connally's strength thus far has been offense, the Lions' defense has shouldered the load early in the 2022 campaign. Brownwood has given up just 69 points – an average of 17 per game – and only 14 points total in the second half, and in the last 14 quarters Brownwood has allowed just 39 points. The opposition generates 266 yards – 177 rushing and 89 passing – on average, while committing seven turnovers as Brownwood is coming off a season-high three takeaways against Glen Rose.
"Our defense has shown time after time if we do things the right way we can play with and stop anybody," Burnett said. "The way we handle the first and second quarters lead into the third and fourth quarters. Our strength is the third and fourth quarter because our kids just don't quit, they're getting stronger and they start imposing their will. When you get into a fight at the beginning both of you have the energy and the spunk to start swinging, but after swinging for 30 or 40 times you start wearing down, you start fatiguing and it gets harder to put those hands up and continue fighting, but our kids have persevered through that. If we can keep the game close into the third and fourth quarter, we can be successful. We want to take away their will to win because of our desire to win."
Standouts on the Lions defense include Chance Jones (40 tackles, 3 sacks, 1 for loss, 1 punt block), Sam Kallman (36 tackles, 2 sacks, 1 for loss, 1 fumble recovery), Quinten McCarty (32 tackles, 5 for loss, 1 punt) block, 1 fumble recovery) Cole Miller (27 tackles, 2 sacks, 1 fumble recovery), Stevie Ramirez (22 tackles, 3 sacks, 1 for loss), Noah Barron (21 tackles), Case Markham (17 tackles, 1 PBU), Hayden Noe (17 tackles, 1 PBU), Jaylan Brown (14 tackles, 1 sack, 1 for loss), Jordyn Nickerson (13 tackles), Jake Jetton (11 tackles, 1 fumble recovery TD), Davis Le (10 tackles), and Morsello Hooker (9 tackles, 1 for loss, 2 interception, 4 PBUs).
On the flip side, Connally has yielded at last 20 points in every game and is giving up 36 points points per game on average, with 12 sacks and three takeaways – all interceptions – to go along with 36 tackles for loss.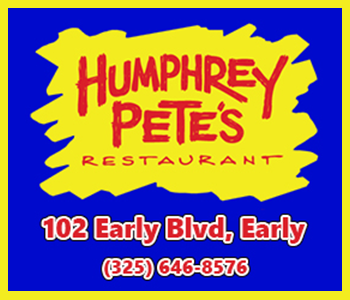 Cadets leading the charge defensively are Jaylin Petty (29 tackles, 2 for loss), Joelsph Weaver (24 tackles, 1 for loss), Jack Johnston (21 tackles, 4 for loss), Malachi Knowles (21 tackles, 5 for loss, 2 sacks), Kaiden Turner (20 tackles, 6 for loss, 4 sacks), and Issacc Perez (19 tackles, 4 for loss, 2 sacks).
"Their defensive tackles are two of the best I've seen this year, big, physical and strong and they cause havoc on your run game, but we're still going to try and run the football, " Burnett said. "The cornerbacks and safeties are very good. They're well-rounded and they're going to put seven in the box and make you throw the football. They're going to play man and play cover 3 and try to get to you before we can get the ball off. They want to put so much pressure on you that you can't get the ball away."
Brownwood counters with an offense still looking to hit on all cylinders. Despite some hiccups, the Lions still produce 32 points and 373 yards – 190 rushing and 193 passing – per game, with five turnovers. The Lions are coming off their first turnover-free performance against Glen Rose.
Behind the play of offensive linemen Chris Robinson, Roan Aguinaga, Damian Sanchez, Slayde Espinoza and Isaac Gray, quarterback Ike Hall has completed 45 of 82 passes for 732 yards with three touchdowns and two interceptions while rushing for 190 yards and four scores. The ground game is anchored by Konlyn Anderson (443 yards, 5 TDs) with Logan McKibben (109 yards, 3 TDs) providing a change of pace. Receiving threats include Thad Hinds (15-300, TD), Jordan Leach (13-197, TD), Anderson (6-51), Jason Jackson (5-107, TD), Brayden Daub (3-42) and Taylor Bessent (3-42).
"We have the potential to press the ball down the field and break big plays, but our offense is not executing on some of our opportunities, such as a guy that gets in the back end and we don't throw and connect on a deep ball like we're able to do," Burnett said. "Then last week we moved the ball inside the red zone, had fourth and goal from the one-foot line and we fumbled the snap and that doesn't allow to score. We're doing some little things that are keeping us from putting up the amount of points I think we should. If we fix that and are a team that averages 40 points a game, I think it's going to be hard for a lot of teams to score 40 against us."

On the injury front, Dryden Anderson will be out of the season while Jackson, Markham and Colton McMillian are all expected to miss Friday's game. Miller, who tallied a team-high 15 tackles last week, is nursing a knee injury but is currently expected to suit up.
"It's next man up and we're going to get what we can out of the next two weeks and get prepared to try and win a district championship, but everybody's hurting a little bit," Burnett said.
According to Harris Ratings Weekly, Brownwood is a 10-point favorite.
"The focus is to play for four quarters," Burnett said. "We feel like if we play for four quarters, and we don't make mistakes, and win all three phases of the game we can play with anybody. This is just another opportunity for us to go out there and test ourselves and have faith."
###
Brownwood Lions 2022 Football Season Stats
Through 4 Games (3-1)
TEAM OFFENSE
32.3 points per game (129)
372.8 yards per game (1,491)
189.8 rushing yards per game (759)
183.0 passing yards per game (732)
54.9 completion percentage (45 of 82)
PASSING
* Ike Hall
45 of 82 for 732 yards, 3 TDs, 2 INTs
RUSHING
* Konlyn Anderson
443 yards on 91 carries, 5 TDs
* Ike Hall
190 yards on 37 carries, 4 TDs
* Logan McKibben
109 yards on 19 carries, 3 TDs
* Case Markham
18 yards on 2 carries
RECEIVING
* Thad Hinds
15 catches, 300 yards, 1 TD
* Jordan Leach
13 catches, 197 yards, 1 TD
* Konlyn Anderson
6 catches, 51 yards
* Jason Jackson
5 catches, 107 yards, 1 TD
* Brayden Daub
3 catches, 42 yards
* Taylor Bessent
3 catches, 25 yards
###
TEAM DEFENSE
17.3 points per game (69)
266.3 yards per game (1,065)
177.0 rushing yards per game (708)
89.3 passing yards per game (357)
52.2 opponents completion percentage (35 of 67)
TACKLES
* Chance Jones
40 tackles, 3 sacks, 1 for loss, 1 punt block
* Sam Kallman
36 tackles, 2 sacks, 1 for loss, 1 fumble recovery
* Quinten McCarty
32 tackles, 5 for loss, 1 punt block, 1 fumble recovery
* Cole Miller
27 tackles, 2 sacks, 1 fumble recovery
* Stevie Ramirez
22 tackles, 3 sacks, 1 for loss
* Noah Barron
21 tackles
* Case Markham
17 tackles, 1 PBU
* Hayden Noe
17 tackles, 1 PBU
* Jaylan Brown
14 tackles, 1 sack, 1 for loss
* Jordyn Nickerson
13 tackles
* Jake Jetton
11 tackles, 1 fumble recovery TD
* Davis Le
10 tackles
* Morsello Hooker
9 tackles, 1 for loss, 2 interceptions, 4 PBUs
* Hayden Deen
9 tackles
* Azariah Dillard
8 tackles
* Trent Loftin
6 tackles, 1 sack
* Jordan Leach
5 tackles, 1 fumble recovery, 1 PBU
* Logan McKibben
5 tackles
* Colton McMillian
5 tackles
* Xavier Zepada
4 tackles
* Brayden Daub
2 tackles
* Logan Knight
2 tackles
* Tristan Salinas
2 tackles
* Dryden Anderson
1 tackle
###
KICKING
* Junior Martinez
5 of 6 FGs, long of 41
16 of 16 PATs
31 points
6 punts, 220 yards, 36.7 average
###
TURNOVER MARGIN (+2)
* Brownwood: 5 (3 fumbles, 2 interceptions)
* Opponents: 7 (5 fumbles, 2 interceptions)
###
PENALTIES
* Brownwood: 35 for 344 yards (8.8 for 86.0 per game)
* Opponents: 33 for 258 yards (8.3 for 64.5 per game)