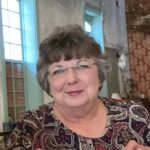 Sarah "Linda" Symes was called home on Saturday June 11, 2022 to be with her Lord and Savior.
Linda couldn't stand the way her relatives would pronounce her first name so she preferred to be called by her middle name from an early age. She was born on October 9th, 1946 at Providence Hospital in Mobile Alabama to Isaac Reginald Hines and Leslie Viola Grant Hines. After graduation she went on to college at Auburn University and earned her Bachelor's degree in Home Economics in 1969. She loved watching Auburn football play each year.
On April 22, 1972 she married Robert Michael Symes with whom she had a son. After her son was born she went back to school and earned her Associates of Applied Science degree from McLennan Community College in 1985. She became a radiologic technologist and began a career as a radiographer and mammographer that spanned 26 years until 2011 when she retired.
Linda enjoyed many things in life. She loved poodles and anything with roadrunners. She liked to garden and tend to her plants and flowers. She was partial to African violets. Her favorite smell was Japanese cherry blossoms. She also loved watching her shows on TV and she loved Elvis Presley and Neil Diamond and watched the traveling Elvis impersonator any chance she could.
Linda was a member of Coggin Avenue Baptist Church. She was involved with the Mosaic, FOCUS, and Evening Stars senior adult groups from the church.
Linda was a proud member of the Vintage Rose Red Hat Society, Brownwood Chapter as well as Bunco groups 1 & 3 on Mondays. She enjoyed movies and computer games or a good book. Her favorite thing was being a mother to Jonathon. She was so proud of the man he has become. She was a beautiful person inside and out and touched many more lives than she was aware of.
She was preceded in death by her Father, Mother and brother Regie
Linda is survived by her son Jonathon Paul Symes of Brownwood, Texas. Sister in law Ann Hines of Ocala, Florida. Niece Hillary Hines Malone of Satsuma, Alabama
Bonus granddaughter Lana Guerrero
Furbabies Jinger Sassy and Lucky.
A celebration of life visitation will be held Friday, July 1, 2022 from 6-7 PM in the Coggin Connection Center Room 104 located at 1715 Coggin Avenue, Brownwood, Texas.
Arrangements are by Brownwood Funeral Home.