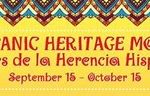 SALSA, the Strategic Alliance for Leadership and Social Action, will continue its celebration of Hispanic Heritage Month by honoring five Mexican Americans who blazed a trail for others to follow. The ceremony will be held at 11:30am Saturday, October 2, at Adams Street Community Center, located at 511 Adams Street. The venue was changed due to rain in the forecast.
The five Mexicano Trailblazers of Brownwood to be honored include Mary Acuna, the late Johnny DeAnda, the late Teodoro Gomez and his widow Sarah, and the late Lance Corporal Ray Delgado.
Mary Acuna is the first Mexican American appointed to public office. She was first appointed in 1975 by the Brownwood City Council to the Planning and Zoning Commission where she served until 2001. In 1985, she was appointed by the City Council to the Brownwood Housing Authority Board. Ms Acuna was recently reappointed to another two-year term.
Teodoro (Ted) and Sarah Gomez started Gomez Restaurant in 1958, in an old army barrack outside their home. At first, the two did all the work. As the restaurant became more popular, the entire family of seven and several other employees worked at the restaurant. Mr Gomez passed away in 1994 and Ms Gomez continued the business until she retired in 2013.

Johnny DeAnda was best known for his generosity toward others and civic-mindedness. He was an entertainment promoter and had a regular radio program heard throughout Central Texas. Mr DeAnda served on the Texas State School Advisory Council and on the Central Texas Opportunities Board of Directors. In 1972, he was elected Brown County Constable, Precinct 4.
Lance Corporal Ray Delgado was the first Brownwood-born Mexican American to die in battle. The team leader, he was killed by heavy mortar fire in the Quang Tri Province in Vietnam. The province was subjected to more bombing than all of Europe in WW II. He was 19 years old and a member of the First Mexican Baptist Church.
Dr. Juan Andrade, SALSA organizer, said "We are tremendously proud of the cultural attributes reflected by these honorees. They blazed a trail and showed many how to create, serve, and sacrifice for this country. The people of Brownwood are invited to join with SALSA in honoring these Trailblazers on October 2."