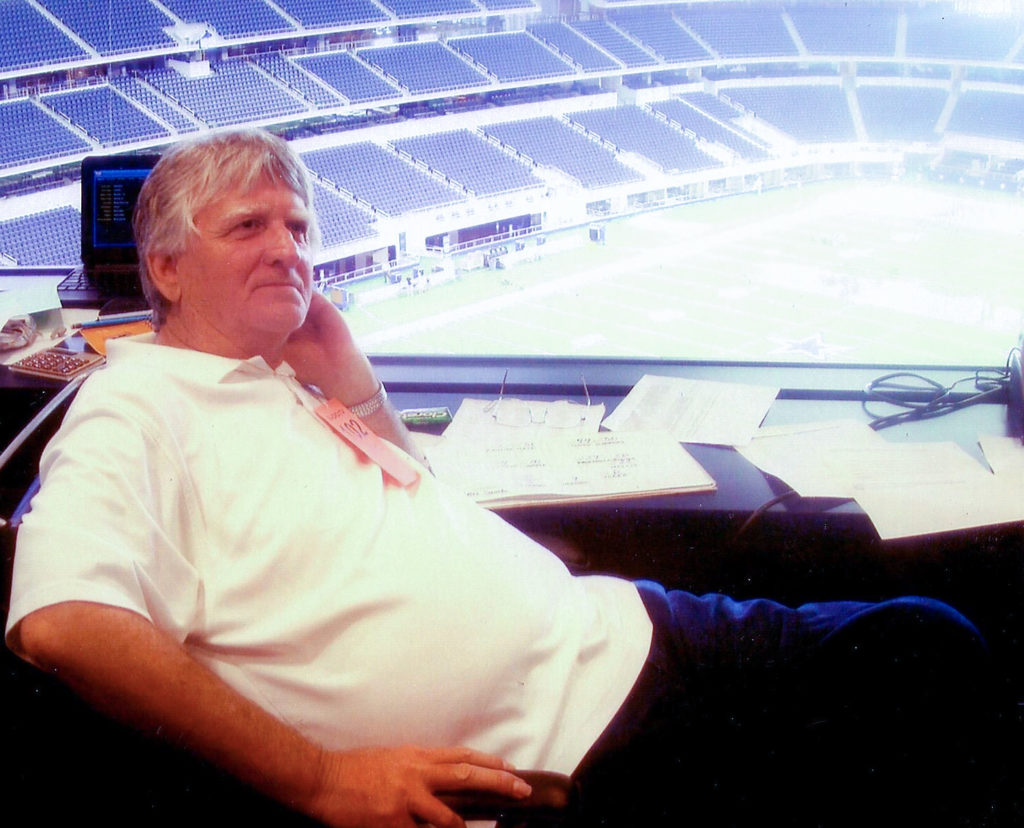 It was September of 1961. I had just started in radio. I didn't have a show, didn't have a name, didn't have much of a voice, but at least I had started. But things changed dramatically for me on that September night with rain coming down as I went around the traffic circle in Brownwood and ran into a car with no tail lights.
My head met the windshield, my Adam's apple got the steering wheel. I was rushed to the hospital that night and the doctors spent most of the night getting glass fragments out of my head. I was wrapped like a mummy when I got to my room and had to stay there for an extended period of time.
My head got OK. My voice box, though, didn't come back. The doctors assured me that it would. I killed time during my stay lying in the hospital bed late at night listening to the radio, and trying to learn from the big time disc jockeys. I was very discouraged with no voice and knew my shot in radio had just gone down the drain. But, it finally did come back.
I started out trying to sound like guys I had heard on the radio, but I didn't sound anything like them. I had a nasal quality that I didn't understand. Maybe it was because I forced my voice that direction instead of the voice box which had been injured. Anyway, I went into the accident with a terrible voice and I came out with the one I have now, which may not be too good, but it was certainly better than nothing.
They say imitation is the greatest form of flattery. If that's the case, I have been flattered many, many times over. Sometimes people who imitate my voice probably sound more like me in the old days than I do now. I've had high school football players, basketball players, business men, etc. and etc. and they have all tried to imitate my voice. Most are pretty impressive. But the one I remember more than any other was told to me a few years back by an elementary school teacher from Brownwood who ran into my wife and I shopping for groceries one night.
She said, "Dallas, I don't know if you've got a good sense of humor or not, but I want to tell you a story." I said, "Go for it." She said in her classroom they were reading a story about a sportscaster. She said the class was acting bored and listless, so she said, "Have any of you ever heard Dallas Huston on the radio?" And she said all these little hands go up, so she said, "How would one of you like to read the story the way Dallas Huston would?"
She said this one little boy was really excited, so she called him to read. He goes up and takes the book, and he turns toward the class. He holds the book with his left hand, and with his right hand he holds his nose and started reading it. She said, "I almost had to get under the desk because I was laughing so hard," but, she said, "every student in that class was glued to him and listening carefully because they thought that's exactly how you did it."
I got a big laugh and as she left, she said, "By the way, he sounded more like you than you do."
Sometimes, things happen in our lives that we feel are going to break us, but that's not always the case. Sometimes, the things we are called on to deal with are just God's way of showing us the way He wants us to go. Always lean on Him during your tough times and look forward to what is to come.
Until next time, so long everybody.
'Out of the Box' with Dallas Huston is published each Monday morning at BrownwoodNews.com. Dallas was the radio voice of the Brownwood Lions and Howard Payne Yellow Jackets for more than 55 years. He currently is Pastor of Center City Baptist Church and hosts a Men's Bible Study in Brownwood on Monday evenings. Your comments are welcome at lindalh2@verizon.net.