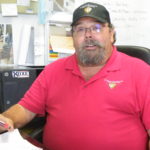 Paul Coghlan, Sanitation Inspector for the Brownwood-Brown County Health Department, is anxiously awaiting news from his family in the New Orleans area.
Coughlan grew up in New Orleans, and still has most of his family in that area.  He has uncles, cousins, etc. in Covington, Louisiana, which is north of New Orleans, just across Lake Pontchartrain from the Crescent City.  "My cousin's daughter had a baby in a hospital in New Orleans on Sunday, then Hurricane Ida hit."  All of New Orleans lost electrical power, and all communications went down.  "We don't know, we assume she is still there (in the New Orleans hospital) on generators."
Coghlan also lost communication with his family members in Covington.  Being further inland, on the north shore of Lake Pontchartrain, he assumes they are OK, with little property damage, but no power.
Paul Coghlan remembers two strong hurricanes from his youthful days in New Orleans, first was Hurricane Betsy in 1965.  His family lived only two blocks from the Mississippi River.  "If you've ever been through a hurricane like that, you can hear the nails coming out of the roof.  We stayed up all night.  Everyone was a nervous wreck.  And then the water started rising (in the house).  I got on my bed and rode it out on my bed.  It took the roof off the house.  We lost everything we had.  We found our carport on top of the A & P grocery store, or what was left of the A & P."
Then in 1969 Hurricane Camille hit a little to the east, on the Mississippi Gulf Coast.  Coghlan's family owned a beach house near Bay St. Louis, Mississippi.  After the hurricane, they went to check on their property.  "Trees were snapped like toothpicks.  Houses were off their foundations.  Everything was gone.  Everything."
"After Betsy and Camille, we left New Orleans.  We had enough.  The damage these storms do is tremendous."  Paul's mother was offered a job in Amarillo, Texas, so they moved.  It was a bit of culture shock at first, but Paul has lived in Texas ever since.  He did say that upon retirement, he has considered moving back to the New Orleans area, because he misses the food.
Speaking of food, Coghlan is quite the bar-b-que chef, owner of the  Goat Willie's food trailer.  He will be travelling to Brady this weekend to compete in the World Championship Goat Cook-Off.  Paul has place high in the competition several times, and hopes to come in first place this year.
But first, he hopes to hear from his family in Louisiana, and that all are well.