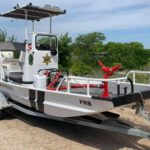 The Brown County Water Improvement District's Lake Patrol has added a Fire Response Boat on Lake Brownwood.  After several fires at the lake in recent years, especially on the 4th of July holiday, the District saw a need for a quick fire response capability.
Lake Patrol Chief Mark Davis, who was hired last year upon the retirement of Troy Henderson, was tasked with modifying an existing patrol boat.  "We wanted to use an existing patrol boat so that in the case of a fire, chances are we will already be on the water with the fire response boat," said BCWID General Manager John Allen.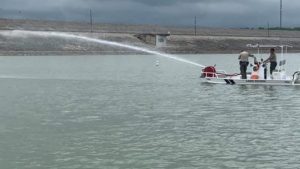 Davis added a fire pump with the capability of spraying water up to 140-feet.  The boat also has 150-feet of fire hose, so they can feed water to fire fighters on the shore.  Also the boat carries canisters with fire-retardant foam, which will help if fighting a gasoline fire on a structure or a boat.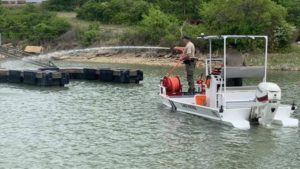 The fire response boat can be seen this Saturday morning, May 1st, at the Kid Fish event at Flat Rock Park.