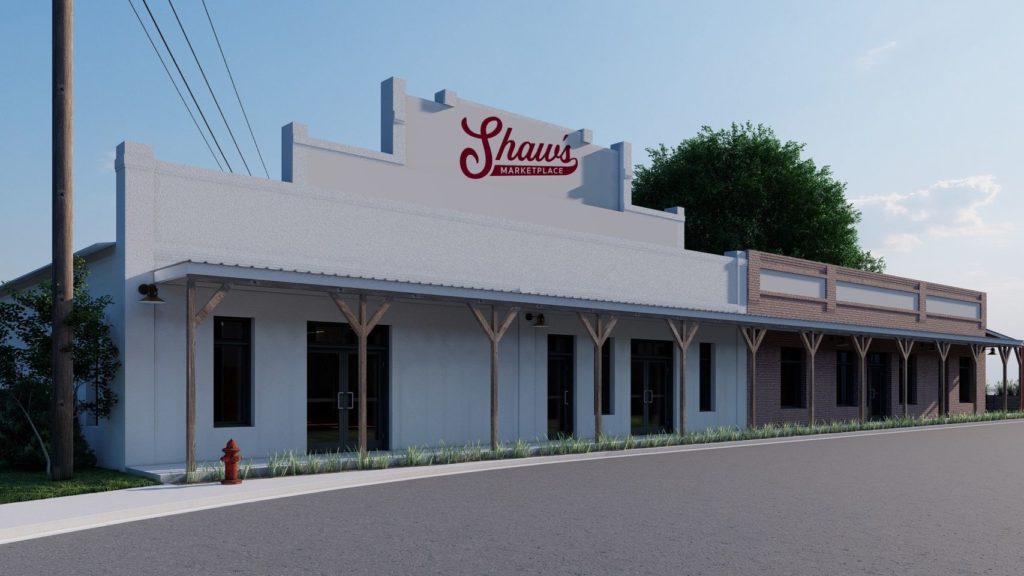 Shaw's Marketplace recently announced a few businesses that will be a part of the new venture in downtown Brownwood, located at 508 N. Center Avenue.
Tex-Mex franchise Fuzzy's Taco Shop, men's clothing and apparel store Mukewater Outfitters and Woven Roots, a clothing store for girls and women, are onboard with Shaw's, which is slated to open this summer and feature and indoor/outdoor market with local artisans, quality goods, food and live entertainment.
More information will be provided as it becomes available. 
FUZZY'S TACO SHOP
According to its official website, "The original Fuzzy's Taco Shop is on Berry Street in Fort Worth, Texas. It was there that a glorious vision of taco heaven took hold in 2003: It would have frosty drinks. It would have good vibes. It would be the kind of place that you never want to leave. It would be a huge, craving-inducing success.
"Fuzzy's earned a cult-like following, and that first location turned into more than 100 across the country. Today, people bring their dogs, party on our patios and feel the festive love every time they walk into a Fuzzy's. And with locations popping up nationwide, our Baja tacos, Chips & Guac, and frozen margaritas are always within reach. Which is reason enough to celebrate with some, as far as we're concerned."
For more information, visit fuzzystacoshop.com.
MUKEWATER OUTFITTERS
With one location in Lubbock, the mission of Mukewater Outfitters, according to its official website is to "provide quality goods and apparel with a touch of class, designed specifically for men who give a damn about style."
The website further states, "Marshall & Shafer founded Mukewater Outfitters on the vision that men deserve damn good gear. The need for a store that offers rugged, yet refined gear that speaks to men and their adventurous lifestyle was evident and that sparked a dream. Mukewater Outfitters is a creative collaboration of goods that men want paired with fashion that women want to see. We exist to ensure that men can find durable apparel and goods that look good and feel great. Men deserve a store that they can walk in and immediately relate to. A store that loved ones can rely on to find a quality gift for the man in their life without spending a fortune. We are here to offer high-quality, timeless gear at men-approved prices in a setting that just fits our lifestyle."
For more information, visit mukewateroutfitters.com.
WOVEN ROOTS
The Woven Roots official website states, "We are a gift / boutique store on the square in small town Comanche. We sell anything from candles & lotions to kitchen & gifts. We also have clothing for just about everyone. Women's fashion, accessories and shoes is a must shop and our Little Roots collection is becoming a staple to our store. Our Little Roots has clothing, little girl shoes, lots of baby accessories and toys & gifts for all ages."
The website further states, "Our story begins in a non-traditional sense in that neither one of us had a dream to own a store. It really takes off when we were both in a transitional season of life and things aligned so perfectly that we knew God meant for this gift to be our reality."
Jennifer Cisneroz – After years of taking care of my children, raising a family and eventually helping my kids with their kids I was looking for a place to make my own. I had worked retail for 2 years by the time the opportunity came up to own a store of our own. I knew it would be hard work at first, but ultimately, I knew it would give me the gift of being able to work alongside both of my daughters, as my oldest Rachel helps out behind the scenes. It also provides the chance to meet unexpected people and give some happiness into the world through our store.
Micah Taylor – I had been in a transition of being a newlywed and starting a family when I was coaching and teaching at the local junior high. Although I loved my job there, my heart felt called to be with my newborn daughter and when my mom and I were presented with the thought of owning a store, it just felt right. I would now get the chance to watch my daughter grow and have fun with something I am passionate about and help others feel good and look good! God put this in front of us and I happily accepted.
For more information, visit wovenrootsretail.com.